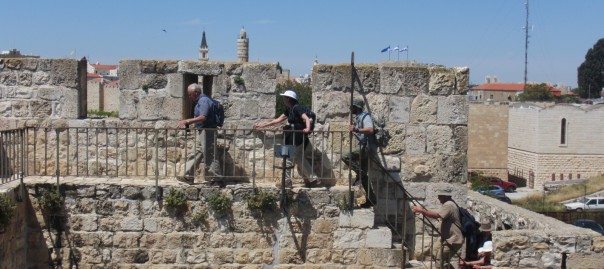 Day 9 – Walk the land . . . and Worship! Apr 24
You may have noticed that yesterday's post for Day 8 was a duplicate of Day 7. It's been corrected. You can now view the REAL day 8 entry here.
Today was a bittersweet day as we concluded our time in Israel.  It combined emotions of not wanting to leave this incredible land with the joy of a final day in Jerusalem with my brothers and sisters in Christ.  We have walked the land together, learned together, survived together, and worshiped together.
We began the day in magnificent fashion on top of the Mount of Olives.  From there we could overlook the old city and the temple mount under clear skies and beautiful weather (somewhat of a rarity on this trip!) There were many "aha!" moments as Pastor Andrew shared a number of stories that involved the very place we were sitting.  He challenged us to live lives of hope as someday Christ would return.  His resurrection and future second coming ensure our hope of eternity with Him.  What a promise!
From there we walked to the Garden of Gethsemane and reflected on Jesus' prayer the night before His crucifixion.  He knew that on the cross He would bear our sins and the wrath of God against those sins, yet was still willing to say Not my will, but yours.  We took some time to ourselves in the garden and prayed, submitting our will to the Father.  It was both amazing and somber to pray at this spot of Jesus' prayer and betrayal and to picture the crowd coming to arrest Jesus.  One person said it was like a movie script that he had read many times coming to life before his eyes.
After Gethsemane, we walked to the old city, through the Lions gate (or leopard gate as I want to rename it), and on to St. Anne's church next to the pools of Bethesda.  One of the most memorable moments was when we sang "I Love You Lord" and the "Doxology" inside this church.  It has amazing acoustics that transformed us from a 20 voice choir to 200 voices that actually sound good!  The moment was so dear because we were just worshipping God with all our hearts after seeing His hand at work and celebrating His salvation these 10 days.  It was a WOW moment that impacted us all.  We went outside and recounted the story of the healing at the pools of Bethesda where Jesus once again shows he is more powerful than our problems and that his care and grace is for all.
We then walked to the Church of the Holy Sepulcher which is one of the possible sites where Jesus was crucified, buried, and, don't forget, rose from the dead!  It was another reminder that Jesus' death and resurrection is the central point of all of history.  God intervened on a rescue mission!  Praise God for His grace.
After a fantastic treat of bagels (more like monster bagels) and dipping sauces for lunch, we walked the ramparts of Jerusalem and prayed for the city.  Did you notice I've mentioned "walked" every time?  Today was a "bus free" day.  We walked everywhere.  No complaining though as we got to experience traversing the city as Jesus and His disciples would have.
The day in the Old City ended with some free time to shop.  We have great memories of finding our way through narrow corridors of shops where you wondered if you would ever find the light of day again, Magnum bars, and haggling with vendors.  Soon we all had our loot and headed back to the hotel for dinner and a time of sharing together.
At the end of it all, we have walked the land as a community and worshiped as a community.  It has been an incredible journey that has impacted us all.   Not because we have seen some really cool sites (which we did), or risked our lives on death defying hikes (which we did), or found the exact place Jesus did ____________.  Rather, we are impacted because every experience has reminded us that we are servants of the Most High God who has orchestrated all of history to bring salvation to those who believe.  His hand is seen in every location of this land.  His Word is true.  He was God, is God, and always will be God.  And so we worship.  What else can we do?
Today's Photos