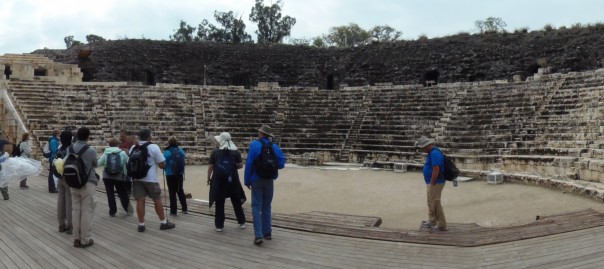 Day 6 – Traveling West Through Jezreel Valley from Beth She'an to Caesarea Apr 21
Our day started with a "WOW!" moment at our first site. After climbing up the Tel at Beth She'an, we were greeted with a panoramic view of the ancient Roman city of Scythopolis. The grandeur and sheer size of the city made it one of the largest cities amongst the Decapolis ("Ten Cities"). We walked on the 1st century frescos and marble ground of the Cardo (Main Street), marveled at the Roman theater and were amazed by the largest gymnasium of the Roman Empire. However, we also felt the sharp contrast between the "Big City Life" and the humble life of Jesus, who is from the small town of Nazareth. Furthermore, while Scythopolis was destroyed and lost forever with the earthquake of 749AD, Jesus' teaching to lives on forever.
Taking a short stop in the north of the valley, we visited Nazareth – the small village where Jesus grew up and declared in the synagogue that he is the Messiah.  Today, it is no longer the same small village but reading the passage from Luke 4 while at Nazareth brings the story into color.
Our third site took us west in the Jezreel Valley to Megiddo – the famous site of recorded past battles (Solomon, Pharaoh, Napoleon) and the prophesied battle at the end of time (Armageddon).  Because of its strategic location, Megiddo had been conquered and rebuilt over and over again – a total of 30 layers in the Tel (city)!  Reading the book of Revelation while overlooking the flat fields of Megiddo, we are comforted by the fact that while the final battle will be epic, the victory is already decided – for those who follow God and Jesus Christ!
Mount Carmel ("God's Vineyard") was beautiful. It is a lush and green mountain range looking into the Jezreel Valley. While standing at one of the hill tops, we read 1 Kings 18 about Elijah on Mount Carmel.  Elijah's complete trust in God as he challenged Baal's prophets brought to mind the question – "How much do you trust God and how boldly do you declare your trust in him?"
Our final stop for the day was Caesarea – the harbor city on the Mediterranean Sea. In Jesus' time, it was the largest city with a population of 120,000. Excavation on the site discovered theaters, a hippodrome, bath houses, a palace, and a deep harbor. The building projects of Herod were, without a doubt, amazing to marvel. However, much like Beth She'an/ Scythopolis, man's creations are temporal and only God's word is eternal.
Tonight we stay in Jerusalem and we begin our next part of the tour in this monumental city!
— Tim and Edith Choi
Today's Photos