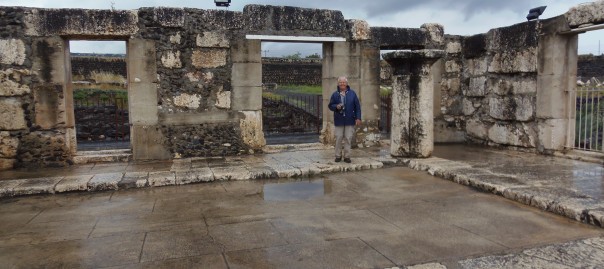 Day 5 – The day it rained in the Galilee Apr 20
We started our fifth day with a blessing of sunshine! Little did we know that it would not last for long–otherwise, we probably wouldn't have attempted to hike to the top of Mount Arbel. "If you hiked Masada, you can make this hike," were the words I was often thinking about this morning, as well as "I'M GONNA DIE!" The hike was very challenging and rain made it slippery and, for me, scary.  It started to rain about a 1/3 of the way into the hike, and never really stopped the whole day! This could not diminish our enthusiasm for exploring the Galilee and walking where Jesus walked. Even if we were all soaked to the bone and freezing. Really. J
On Mount Arbel we were reminded that Jesus went out to the mountain to pray: Luke 6:12. We also went out to the mountain and spent some time in prayer and enjoyed God's creation. The view from the top is the most beautiful view of the Sea of Galilee! Even in the rain.
Because of the rain, we took shelter inside, and went to see a 2000 year old boat that had been found on the shores of the Sea of Galilee in 1986.
We enjoyed falafels and Magnum bars for lunch at a roadside restaurant. Oh my goodness! So yummy! And it was dry. J
The highlight of the day was walking the "streets" of Capernaum. This is where Jesus spent a large part of his ministry.  In the area around Capernaum Jesus performed many miracles, called His disciples, and taught in the synagogue. We were able to actually step on the stones leading into the same synagogue, perhaps in the very place where Jesus stepped! One of the things that stood out from Ron's teaching was that Jesus called His disciples and they just stopped whatever they were doing and followed. Right now! No thinking about it.
From there we moved to Chorazin which is just a mile or so from Capernaum and walked the ruins of the synagogue and homes there. In the pouring rain, of course.
We finished the day at the Jordan River. The same river that Jesus was baptized in! Although most of us were not even tempted to wade in (too cold!), Ted did brave the water and wade in to his waist. Actually, we all could have done that, and not be much wetter in the end.
We hiked, prayed, walked, got rained on (a lot), and were truly blessed in the place where Jesus ministered. What a day!
— Lorraine Allen
Today's Photos