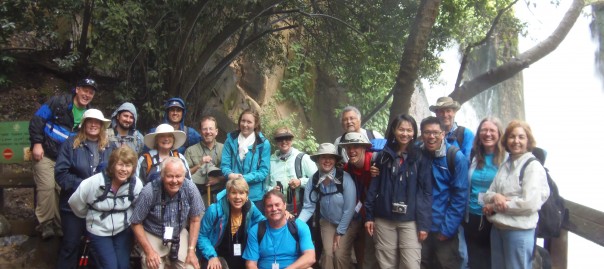 Day 4 – Upper Galilee and Golan Heights Apr 19
We started today in a boat on the Sea of Galilee—what an amazing experience! As we boarded the boat they raised the American flag and played our national anthem while we all sang (chills). Next we sang "Amazing Grace" (more chills)! Ron recounted the story of Jesus calming the storm (Mark 4:35-41) and Jesus walking on water (Matt. 14:22-32), which both took place on the Sea of Galilee—and that's where we were! Add in dancing and singing "Havah Nagilah" and it was just a great way to start the day!
We visited Tel Hatzor (Hazor) and Tel Dan during the day and had great history lessons from Ronen about these ancient towns that have been excavated. The teaching that Pastor Ron and Pastor Andrew share comes alive as we visualize the passages from Scripture.
Caesarea Philippi was a wonderland of living water—waterfalls running down to a fast-moving stream that was rushing by us as we hiked the very muddy trail. I felt like we were in a rain forest with all the trees and greenery surrounding us. And speaking of rain… we had plenty of it today, finally taking shelter in an old flour mill to wait out the downpour.
The site that housed a temple to the gods Pan and Zeus was incredible to see and to imagine the time and energy put into the creation of this manmade place. It makes one wonder if we put in the same dedication as we worship our one and only true God.
We finished off our day a stone's throw away from the Lebanon border and Syria was not much further when we got to our last site of the day. Hearing Ronen talk about the reality of being in the modern day Israeli army was enlightening and sobering. Great day!
— Sharyn Dike
Today's Photos