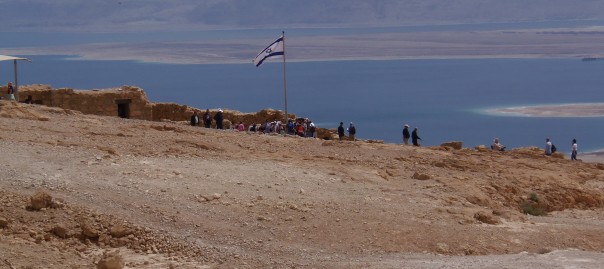 Day 3 – Along the Dead Sea Apr 18
It seems as though we've been here longer than three days. Perhaps because we've seen so much! Today began with a hike (or gondola ride) up Masada, the stronghold. From there we headed up to En Gedi for a hike to a waterfall, followed by our last site of the day, Qumran, where the Dead Sea scrolls were found.
My favorite part of the day was hiking in Qumran and reading Psalm 119 together. Pastor Ron also had us read Jesus' parable about the wise man who built his house on the rock and the foolish man who built his house on the sand. After learning about the wadis (seasonal streams) here in Israel, this parable really hit home for me. The Jews would have heard Jesus' parable and made the connection immediately, but it took me being able to see the land to understand. A wadi will fill with water during the rainy season, which means that there's sand that collects in the wadi, like at the bottom of a river or lake. But the wadi cuts through mountains of rock. Now, if you knew the area at all, would you choose to build a house on the sand in the middle of the wadi (where it might be flatter and seem easier) or on the rock of the mountain (which you'd have to climb)? When the rains come, the flood will sweep away anything left in the wadi, including a house. So even if it seems easier to build on the sand, in the end, you'd end up losing the house. Spiritually, I need to be building my "house" on the rock of God's Word. But how often am I willing to compromise, chipping out some of the rock to toss in some sand? When life gets busy, often my time with God in His Word is the first thing to go. This shouldn't be! Pastor Ron challenged us to take a rock from the wadi to remember where our houses should be built: on the rock of the Bible. We ended by singing "As the Deer" together and listening to it echo through the wadi. I will cherish this memory!
—Amy Gilmore
Today's Photos