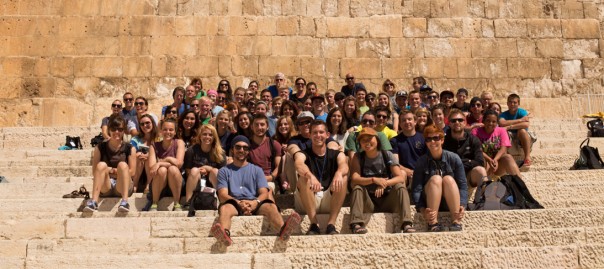 Day 9 – Siloam, Shwarma, Souveniers, and Shabbat Shalom Apr 12
Being here in the city of Jerusalem has brought many things to our attention. We started the day off by entering into Hezekiah's Tunnel, a tunnel built by King Hezekiah during the time of his reign when the Assyrian king Sennacherib, was making his way down the Via Maris, a major trade route, conquering the major cities along the road. This tunnel was built to bring water to Jerusalem from the Pool of Siloam in case King Sennacherib laid siege to Jerusalem. While there we were reminded that God will work in our lives but we can't sit around twiddling our thumbs, waiting for answer to our problems. We must, in faith, start doing something. In the end God saved Jerusalem from Sennacherib and the tunnel wasn't needed but no one could've known God's plan and Hezekiah was making sure that he could help his people if they were ever under serious threat. Besides the now it makes for a great adventure for Israel explorers like us, we got to walk, sometimes hunched over, through the tunnel as a group and some of us did it without flashlights, giving us the opportunity to feel our way through the tunnel and hit our heads on the ceiling a couple times too.
Hezikiahs tunnel! #jwiisrael13 instagram.com/p/X_nP7wNHLM/

— Joshua Wilderness (@joshuahumelake) April 12, 2013
After crawling through Hezekiah's tunnel we made our way to the Western Wall again. This time we were outside in the ruins looking up at the massive fortress from the 1st century street level. While there our tour guides Ronan and Nadav gave us a wonderful performance in which Ronan described the glory of the walls from the perspective of a builder who helped make them, helping us picture the beauty the walls once had.
At the pool of Siloam, about to make our assent to the House! #jwiisrael13 instagram.com/p/X_oPx2tHLp/

— Joshua Wilderness (@joshuahumelake) April 12, 2013
Turning the corner we went to the Southern Steps and there Rich opened up the Pentecost for us and told us about how the 3,000 were saved and baptized right there on the steps where people would normally gather to hear their Rabbi's teach. He then reminded us that the Old Testament isn't old and gave us a memory and a symbol that will be hard to forget and that help us to love to learn the whole Bible instead of simply the New Testament.
Rich teaching on the southern steps. Will we wait, or will we do what God has for us?#jwiisrael13 instagram.com/p/X_vOwLtHO-/

— Joshua Wilderness (@joshuahumelake) April 12, 2013
Leaving the city walls, we got on the buses and drove into Bethlehem. We only went to one site there but it couldn't have been more impactful. We went to the Herodium, Herod's private palace in Bethlehem, in which he was buried. Just like in all of his other palaces, we saw the signs of wealth and power. However, this palace is special, not only was Herod buried there, not only did it have its own giant swimming pool filled with water transferred to it by aqueducts, but this place was built on a mountain, a mountain the Herod himself created. Herod built a mountain in Bethlehem so he could build another palace. He moved a mountain, but it was only for himself. The best part about being at the Herodium wasn't the palace itself though. It was remembering that Jesus, our King, was born just down the hill in a humble manger, and that he brought victory, brought love, brought shalom to a place that desperately needed it. The Palaces of Herod cannot withstand time but Jesus will reign for eternity with at the right hand of God the father, and there is no greater thing on earth than that.
At the Herodian in Betlehem.#jwiisrael13 instagram.com/p/X_6iOANHF3/

— Joshua Wilderness (@joshuahumelake) April 12, 2013
We ended our day by eating chicken shwarma at a restaurant named Marvel (to anyone who watched The Avengers last summer I hope you find this ironic) and shopping at Johnny's souvenir store where we were able to stock up on gifts for our friends and family while supporting the Palestinian Christian community in Bethlehem. Johnny's aim is to help his family and other Christian families in Bethlehem be able to live in Bethlehem and provide for their families by selling their hand crafted items to people like us. It was a win-win situation.
Shopping for souvenirs at Johnny's. #jwiisrael13 instagram.com/p/YASsBVtHHJ/

— Joshua Wilderness (@joshuahumelake) April 12, 2013
Saturday is here and it is now the evening of Shabbat, so Shabbat Shalom to all of you, I hope you can find rest in the Lord this Saturday.
Signing off from another jam-packed day in Israel
Megan
Today's Photos