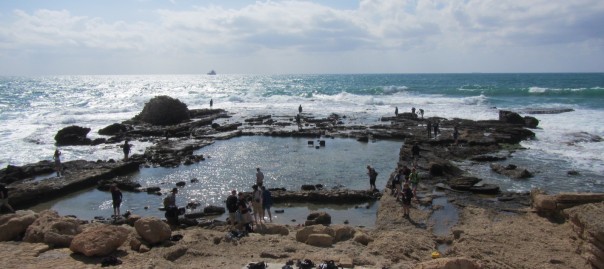 Day 7 – Shalom from the Jezreel Valley! Apr 10
Another incredible day for Joshua and company as we headed out for our first teaching spot: Nazareth. The greatest tour guide in all of Israel, Ronen, described just how central the city of Nazareth was during the time. As we looked out over the valley Ronen told us about all of the important events that took place (like Joshua and the Israelites entering the land after their years in the Wilderness of Zen)! Location, location, location! It's key!
Ronen teaching at Nazareth on the significance of the Jezreel valley. #jwiisrael13 instagram.com/p/X6ZiU8tHEo/

— Joshua Wilderness (@joshuahumelake) April 10, 2013
Our next pit stop was my personal favorite, Megiddo. As we studied in class, this place represents a lot of key history involving several important kings that ruled over this valley, but more importantly, this valley area represents everything to come. Armageddon, the great day of the battle of the Lord Almighty, will take place in this area! It was surreal looking over the valley as we read that our Savior, the greatest warrior, Jesus Christ, will make His way and come down from the heavens to demolish all that deny His name. Brent described so vibrantly how it's all gonna go down! I, along with so many of my classmates, were all in awe. I loved this spot because it is an incredible reminder to me that the victory is won! Jesus Christ has already triumphed and one day we get to be a part of the day His power will be shown to EVERYONE! We serve a mighty God.
Brent teaching at Megiddo, the greatest battlefield on earth. #jwiisrael13 instagram.com/p/X6hyWTNHIH/

— Joshua Wilderness (@joshuahumelake) April 10, 2013
Mt. Carmel was the next stop. Joey, our fantastic teacher and paramedic, shared about the epic showdown between God and Baal on this mountaintop! We discussed how Elijah, a man just like us, did mighty things for God. We talked about what it means to trust God to supply enough for us, to believe He CAN do miracles through our lives, and to be aware and ready to face the areas in our lives that will cause us to fall after our own mountaintop experience at Joshua. Elijah was disheartened, even after his work through Christ, to proclaim His name and disgrace the name of Baal. But, God wasn't finished with Him! This was an awesome place to reflect on just how much we've learned about insula (community) and how much God has, and will continue to do in our lives.
Joey on top of Mt Caramel teaching about Elijah and Baal, and how God wins. #jwiisrael13 instagram.com/p/X6vfHMNHOh/

— Joshua Wilderness (@joshuahumelake) April 10, 2013
Our fourth and final stop put us right along the shore of the Mediterranean Sea at Caesarea Maritima! This was a place we were all really excited to see since we learned so much about it in class. Jen was the one to lead discussion this time. We went through Acts chapters 21-26, a clear depiction of the persecution Paul faced in this region. We talked in the ruins of the actual room where Paul was questioned and was able to share His faith. WOW! God is so good. We were able to talk about how zealous we should be with how privileged we are as ambassadors for Christ to seize any opportunity to share about our God, even under persecution and opposition.
Seeing Caesarea, hippodromes, amphitheaters, and the very room. #jwiisrael13 instagram.com/p/X7IdTJNHMi/

— Joshua Wilderness (@joshuahumelake) April 10, 2013
Today we were able to get a few more pictures of just how powerful our God is and just how involved He is in His people's lives. I feel incredibly blessed to be sharing this experience with my brothers and sisters and can already see the color that it brings to way I read my Bible! Anyways, we hope you have enjoyed following us on this incredible journey. We'd love to hear some feedback from everyone at home so please feel free to comment below!
With much Chutzpa,
Taryn
Today's Photos