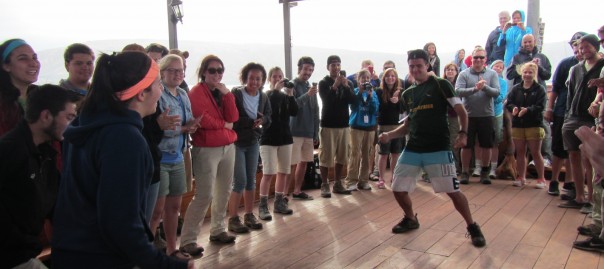 Day 6 – More To Tell Apr 9
Can you believe that this trip is half way over? It seems like just yesterday we were on top of the clouds crossing seas and nations to enter this beloved place. It'll soon be over, but let's not focus on that yet. For now we'll focus on what's at hand, and that's the information that we've received today and what we'll continue to receive as the week progresses.
On a boat in the Galilee, it's only wind- call out to Christ, he'll save you. #jwiisrael13 instagram.com/p/X300bINHH7/

— Joshua Wilderness (@joshuahumelake) April 9, 2013
Today we started off our journey on a seemingly normal boat ride across the Sea of Galilee. I know what you're thinking, "A ride across the Galilee can't be normal." You're absolutely correct. It wasn't just a boat ride. It was a time to truly reflect on what God is doing in our lives as well as what He'll continue to do in us after this year of Joshua ends. Now, you're probably wondering exactly how this reflection took place. In the center of the Galilee, on a tugboat, we went through the story in the book of Matthew in which Jesus comes to the disciples on the water. This related to our Joshua lives because as Joshua students we're so focused on what's now and we forget that we'll have a future outside of Joshua. As students we become complacent. We've become encapsulated in our Utopia and disguise the outside world as a place that nobody would dare venture into. However, that's not the case. You may be confused at this point, and rightfully so. I'll try to explain. Peter stepped off the boat in an act of trust. That's the trust that we have in our community at Joshua. We're so willing to step out and do something big, but the second something comes our way, that trust vanishes and we begin to panic. We begin to fall. As we fall, we grab hold of everything that we see and so often forget that all we had to do in the first place was trust. If you're familiar with the story of Peter, you'll know that Peter cried out to Jesus in his moment of fear. This is where the story gets good. As soon as Peter cries out, Jesus quickly grabs ahold of him and says, "Oh you of little faith, why do you not trust?" This comfort that we develop in Joshua allows us to remain complacent and we fear that outside of our world, we'll fall and not regain our step. However, it's just wind, and Jesus is right there with us to take our hand as we begin to sink. That's some amazing reflection, right? Our boat ride didn't end there. After our time of reflection, we celebrated our lives and had an incredible dance party on the Sea of Galilee. Needless to say, the Galilee is the place to be.
Hava Nagila! #jwiisrael13 instagram.com/p/X31At-tHIE/

— Joshua Wilderness (@joshuahumelake) April 9, 2013
Our next stop, on the other side of the Galilee, was Susita, the Horse City. If you are not familiar with the city of Susita, it is recorded in the book of Mark 5: 1 – 20. When Jesus and His disciples landed on the shore, they were immediately approached by a demon possessed man, who Jesus later took the demons out of and threw them into a herd of two thousand pigs. But what's interesting is that the people of Susita, did not welcome Jesus because of his miracle, they shunned him and told him to leave. Personally, that's one of my favorite miracles by Jesus. Imagine Jesus telling the demons to exit the man's body and threw them among the pigs and all of the two thousand pigs hurled themselves down a steep band and drowned themselves in  the lake. Pretty awesome, right? Well, after that incredible scene, Jesus then told the formerly possessed man to go and tell his story. What I found applicable is that in 3 chapters later, Jesus then returns, and is welcomed by the people of Susita. The man goes and obeys Jesus and tells his fellow Susitans what Jesus has done in his life and how He has healed him. What Rich told us, is that everyone's story is important, and it needs to be told. Because "our story is the greatest story ever told, because our story is Jesus' story." Who are we to keep secret Jesus' story?
Rich teaching at Susita. Crazy Larry tells his story, and the Decapolis is changed forever. #jwiisrael13 instagram.com/p/X3-czXNHNi/

— Joshua Wilderness (@joshuahumelake) April 9, 2013
Please bear with us. We've still got a little more to tell about today. I'll try to be brief, but I won't make any promises. Our next two places we journeyed to today were Bet She'an and Gilboa. Bet She'an was incredibly beautiful city. This may be due to the fact that it's a Roman city, and at that time Romans had a tendency to create incredible works of art that'll stop you in your tracks and make you want to partake in the festivities. It sounds incredibly appealing, but you may think otherwise when you learn that it can be regarded as the Las Vegas of its time. By partaking in the festivities, you are partaking in the act of worshipping false gods and indulging in gluttony and prostitution. As I sit and think about that, I reflect on what I allow myself to indulge in; what I allow my god to be. Am I my own God? By no means, but as a human I tend to live like it. As I think about that, I'll go back to the moment and remember "Bet She'an." I won't live in sin.
Brent teaching at Bet She'an. Every opportunity to sin is also an opportunity to build character.… instagram.com/p/X4JOo7NHCT/

— Joshua Wilderness (@joshuahumelake) April 9, 2013
As for Gilboa, this was the place of Saul's and his son's death, as well as the place where God handpicked the army of Gideon. As Rich taught us these two different stories that happened years and years apart, but they both have a central theme: "Hear God, don't forget God, and trust God." Amidst the trials and confusion, both these men, Saul and Gideon, decided not to hear God, decided to forget God and decided not to trust God. And the question that Rich asked us is, are being like Gideon and Saul or are we hearing God? Are we remembering God and do we trust God?
Rich teaching at Mt Gilboa. The compromise of Saul, and the compromise in our own lives brings ruin.… instagram.com/p/X4cZxltHLL/

— Joshua Wilderness (@joshuahumelake) April 9, 2013
All of this led up to an incredible days end. Today was the annual soccer game between the busses; bus 1 versus bus 2. After countless back and forth moments, the people of bus one stood in victory atop the field of dreams. The end score was Bus One: 4 and Bus Two: 2. It's been an incredible day, and to all of you who stuck around to the end, thank you. We're looking forward to the rest of the time that you'll experience our adventure. Also, to Chris' mom, he says hi and that he loves you.
– Antonio Luke Thompson and Micaela De La Rosa.
Today's Photos