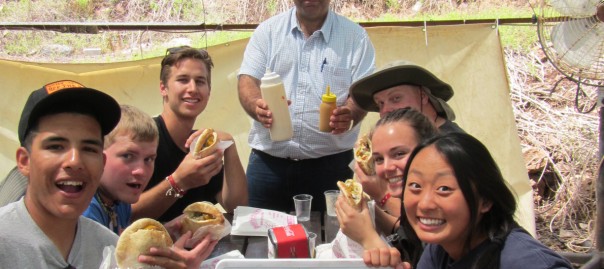 Day 4 – Solitude, Instruction, and Memorization Apr 7
Today we started off at My. Arbel and there was an awesome hike filled with rocks, grassy hillsides, and ferocious cows. There is a really cool fortress built in to the side of the mountain that has been used for defense, one of the groups well known that occupied this fortress were the Crusaders.
Mt Arbel in the distance. About to climb this mountain! #jwiisrael13 instagram.com/p/XykoyctHAc/

— Joshua Wilderness (@joshuahumelake) April 7, 2013
After going to the fortress, we hiked up to the top of the mountain where we spoke about solitude. There was an awesome view of the Sea of Galilee and it was very peaceful listening to the birds and the breeze going by. We learned from our lesson that you have to be intentional and work to make time for solitude, just as we had to work to enjoy the serenity of the top of the mountain. On our hike up and down we were able to see the valley that the Via Maris went through, which is highly likely that Jesus walked through that same valley Himself.
Brent teaching on top of Mt Arbel. Jesus showed us that solitude sustains us; allows us to get into… instagram.com/p/XywFXFtHMV/

— Joshua Wilderness (@joshuahumelake) April 7, 2013
From Mount Arbel we headed out to Tabgha. It was very cool and we read out of the last chapter in the book of John where we see Jesus calling out to his disciples fishing, just as he had done years earlier to call hem in to ministry. We were right at the shore of the sea when we had this lesson taught by Chad and from this lesson of following Him, and also that Jesus was a personal man, just as God is personal. Jesus was able to allude to a joke made years ago and mess around with His disciples and also just have personal relationships with people back then as He does now. Plus, it was cool as we were talking about fishing that a little fishing boat went by and gave us a little bit of an image.
Chad teaching at Tagba, Jesus reinstates Peter. #jwiisrael13 instagram.com/p/XzBETztHIX/

— Joshua Wilderness (@joshuahumelake) April 7, 2013
After Tabgha we had some bomb falafel from a stand. Then we headed out to Capernaum and had a lesson about Jesus making Capernaum his home and his ministry there. We had a lesson on how even when Jesus was doing miracles and had other plans, He was able to be interrupted and held others as more important than His plans. We read about when He was going to heal a girl, but while he was on his way, was interrupted by the woman who had been bleeding for 12 years. It was interesting to see how he dealt with others and what went on in that city. It was also very cool to be able to go to the synagogue where Jesus taught himself and hung out. We were in the same place that our Savior was in and it was just an experience that is making the Bible so much more tangible and real.
Houses and synagogue in Jesus' town. @ Capernaum instagram.com/p/XzSe3FtHDR/

— Joshua Wilderness (@joshuahumelake) April 7, 2013
After Capernuam we went to another city where Jesus performed miracles called Chorazin. The focus at this site was "Insula" which is community. We saw throughout the Bible how Jesus made references to community and the importance of it. Referring to different aspects such as the church being the bride and John coming before being the best friend at the wedding who rejoices over Jesus' coming. Then a few people shared about our own community because it is definitely the hardest and most rewarding part. After that we got to see a synagogue and put the facts we have been learning in to a picture that we could see and describe ourselves. We spoke about its different parts and how the services are run, then how Jesus taught at the Synagogue in his hometown of Nazareth and that when he read from Isaiah, it is not about that Jesus was from Nazareth, but about the peoples' hearts who are form there. It did not matter to him that they loved him because he was successful and from there, but wanted them to love him for the right reasons.
Joshua headed to the mt of beatitudes. #jwiisrael13 instagram.com/p/Xzjh7NtHEZ/

— Joshua Wilderness (@joshuahumelake) April 7, 2013
We finished up the day at the Mt. of Beatitudes. Kelsey Forbes taught on the Beatitudes found in Matthew 5-7 and gave us how she practically applies it in her own life, and then she spoke the passages from memory, showing us what it would be like if Jesus had been teaching. It was very powerful because it wasn't just like reading a book but practical instruction, and the fact she put so much work in to teach us was just awesome, because we know how memorizing Scripture can be a large task, but is very beneficial.
Jesus used Kelsey to preach the Sermon on the Mount. #jwiisrael13 instagram.com/p/XzjnSNNHEc/

— Joshua Wilderness (@joshuahumelake) April 7, 2013
Just a fun note, today Matthew Ryan Pent turned 20 years old and Lindsay Andrews turned 19!
Keep following the blog and fell free to leave comments for us on the GTI page as we are checking it every day.
Take care
Tyler
Today's Photos