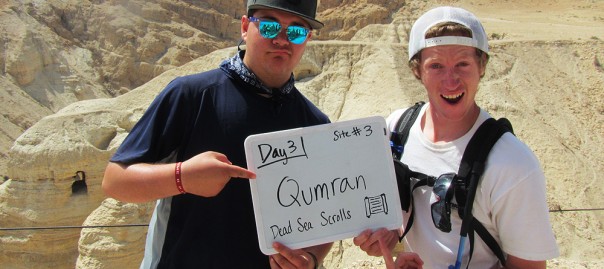 Day 3 – A Never-ending Adventure Apr 6
Layla tov (good evening) friends, brothers, sisters, twins, moms and dads and any others reading this blog! Day 3 of our Israel trip has been hot and exhausting but a never-ending adventure.
After breakfast our day actually began in front of our resort hotel at the foot of the Dead Sea. We had a mini debrief on what these past couple days have meant to us, and what God's teaching our class. A common theme is how our minds are being blown apart after seeing so many one dimensional stories of the Bible IN the actual locations they took place. When people who've visited Israel talk about the Bible becoming a pop up book with colors, they weren't kidding. This has been a cool trip tradition of starting off the morning like this.
Day 3: last devo at the salt sea. Headed out for a big big day! #jwiisrael13 instagram.com/p/Xv9moRNHI1/

— Joshua Wilderness (@joshuahumelake) April 6, 2013
After this we headed to our first stop: Masada! We've watched an 8-hour movie on Masada and we just hiked it. Mind blown x4. It was a hot hike but not bad at all and only took around 45 minutes to stair climb (literally, like 720 stairs). We took a tour and had fun learning more about the Jewish culture and the history of Israel. (Personally a highlight for me was feeding some friendly little birds that came and sat on my hand and ate nuts from my hand!)
Masada! #jwiisrael13 instagram.com/p/XwPNRftHH3/

— Joshua Wilderness (@joshuahumelake) April 6, 2013
Insights on Masada
Throughout the study tour, our native Israeli guides provide archaeological, cultural, and historical insights. Below you'll find a complete recording of Ronen walking us through Masada.

Masada – Part 1
Masada – Part 2
Masada – Part 3
Masada – Part 4
Masada – Part 5
Masada – Part 6
Masada – Part 7
Masada – Part 8
Finishing up our hike up Masada, we made our way over to the desert oasis of Ein Gedi where we got to swim! I guess it wasn't really swimming, and was more like standing under a waterfall (which is kind of more awesome, if we're being honest). Being in the middle of the desert and seeing this place so teeming with life brought a completely new meaning to the term "living water" that Jesus so often uses to describe himself. We were challenged to evaluate how much of God we truly desire, and whether or not we are willing to plunge into everything He has to offer. Do we desire the full force of the waterfall, or are we giving into the complacency that comes from getting our feet wet? Maybe these are questions we should all be asking ourselves every once in a while.
Ein Geddi- maim Chaim- how much do you want? #jwiisrael13 instagram.com/p/XwhMtgtHCh/

— Joshua Wilderness (@joshuahumelake) April 6, 2013
Even still, the day was just getting started. We continued our day at Qumran, the site of the Dead Sea Scrolls discovery. I'm still trying to figure out how a goat herder ends up stumbling upon those caves because the mountains are ridiculous. I suppose that's irrelevant, but seriously—whoever that guy was—impressive. We stood in a wadi, or dry riverbed, and talked about foundations. Are we the wise men who build our houses upon the rocks, or are we foolish people who build their houses in wadis, awaiting their ultimate demise from destructive flash floods (which are apparently terrifying and dangerous). What does that look like in our lives?
Jenna and Brent teaching at Qumron, don't be just puffed up, and don't die because of bad foundations… instagram.com/p/XwvniBtHLt/

— Joshua Wilderness (@joshuahumelake) April 6, 2013
Perhaps my favorite moment of the day was what followed. The majority of us made our way up one of the mountains of Qumran to this Joshua monument of rocks where the past seven Joshua classes (along with some of the past classes of the Forge and other groups) have placed rocks decorated with various things God has been speaking to us/them. Did I mention that we were standing at the top of this mountain looking out on the Judah wilderness? Did I mention this was the same wilderness that Jesus wandered into for forty days to be tempted—because it was? And it was awesome.  And then we stood at the top of the mountain and screamed the shema together as loud as we possibly could. It was a great day.
The Joshua class on top of Qumron, shouting the Sh'ma over the Judean wilderness #jwiisrael13 instagram.com/p/Xw5M9dNHDk/

— Joshua Wilderness (@joshuahumelake) April 6, 2013
Now we're on the bus, and as I sit here writing this, I can't help thinking about how blessed we are to have this opportunity to walk where Jesus walked. We've seen so many sites of so many Bible stories, and to try to put it into a blog entry is basically impossible. However, if I'm being really honest, my favorite part of this trip hasn't been any of the sites we've seen. My favorite part of this trip has been coming to the realization that God is still writing, and we are part of the same story as David and Goliath, Samson and Delilah, and most stunningly and importantly, Jesus himself. This land has Jesus written all over it, even 2,000 years after his little human feet landed on it. Even though victory was ultimately won on the cross, the story is still playing out. So while we are all beyond blessed to be here, the real blessing lies in the fact that we get to be a part of what God is doing in this world. And while just a little over 365 days ago, most of us didn't even know we would be here today, this twelve day trip has been on God's calendar for a long time. And that is crazy cool.  We would love to hear your thoughts so please leave some feedback on the blog.
Shalom,
Kelsey and Jessica
Today's Photos