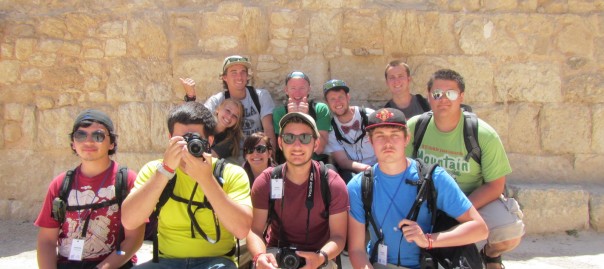 Day 10 – Last Day in the Holy Land Apr 13
Today was the last day in the Holy Land! We started our day off by going to the Mt. of Olives, walked to Gatshemen, walked through the old city of Jerusalem on the Villa Dolorosa, went to Bethesda and sang in St. Anne's, to the Church of the Hoy Sepluchre, then it was lunch time, after we walked the ramparts of the old city walls, and finally the museum of Israel where we saw a model of 1st century Jerusalem and the dead sea scrolls. That was the day in a nutshell, super-fast, super cool, and super fun. This trip was awesome and we learned so much together on this trip, our Bibles have changed from black and white to color. But I don't think that's all we learned; a lot of us were having internal struggles just dealing with life, what we are going to do next year, what's going to happen when Joshua ends, and where's the guy I can buy a magnum bar from? But all week we have been learning to trust God, no matter where we were at in Israel or what story we heard there, we kept hearing over and over again, who do you put your trust in and who are you living for? I know for my own experience, God was asking me "Do you trust me? Will you follow me? Do you love me?" A lot of us have been hearing that from God, this trip wasn't about the sites, it was about the end of our year in Joshua, and to not forget the Truth we have learned this year. The truth that God is in control, He loves us, and He knows what's best. It has been a cool trip and God has shown us a lot so now it's time to Trust and go make Disciples for Christ!
At the Mount of Olives, what does Christ have for me to do before Jesus returns? #jwiisrael13 instagram.com/p/YCKnpgtHF8/

— Joshua Wilderness (@joshuahumelake) April 13, 2013
For me this trip was an eye opening experience, after each day I went back to the text of scripture and was super pumped to know what the geography of the land looked like for my mental pictures sake. My theme throughout this trip was, "these stories happened a million miles away 2,000 years ago ,and now being here it just happened 2,000 years ago." The scriptures are coming alive for the first time, and for the first time in my life I just can't get enough of the word of God. I love it. This trip made all this real. And that has helped me.
Singing like angels in St Anne's. #jwiisrael13yfrog.us/nmu00zsdysdeyw…

— Joshua Wilderness (@joshuahumelake) April 13, 2013
Walking the ramparts and praying for Israel. #jwiisrael13 instagram.com/p/YCvLvhNHMM/

— Joshua Wilderness (@joshuahumelake) April 13, 2013
Goodbye and Good day from Israel and Auzzy R and DJ Hype. (aka Austin Rurik and Chris Baeza) #ShabbatShalom #earlyflight # yeahbuddy #Magnumbarsallday #wedabest #hisnameisAbdulandheismyson #peaceoutholyland #hisnameisMair #bus1isthebest #HiMom!!!!!!!!!!!!!!!!!!!!!!!!!!!!!!!!!!!!!!!!!!!!!!!!!!!!!!!!!!!!!!!!!!!!!!!!!!!!!!!!!!!!!!!!!!!!!!!!!!!!!!!!!!!!!!!!!!!!!!!
Today's Photos