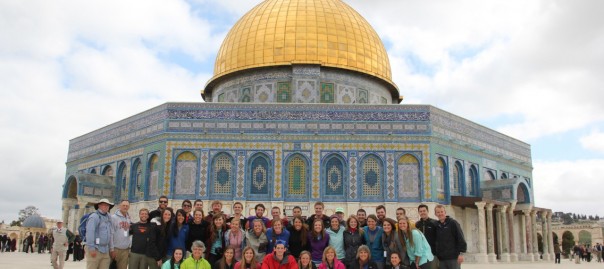 Day 9 – It's Not Everyday Mar 18
Shalom from Jerusalem! We've just returned to our hotel from another BIG day. It's not every day that you get to start the morning by walking around on the Temple Mount, you know, but that's how our day started. When we say we have a BIG day in store, we really mean it!
So, our day began by going up to the Temple Mount where Ronen gave us a great overview of many of the Biblical events that happened on Mount Moriah as well as a terrific summary of how the Temple Mount has become the sacred place for both Muslims and Jews. After his lesson we had some time to simply explore the site, take some pictures, and contemplate all of the people from the Text who had walked in the very same place we were walking. It was incredible!
After seeing the Temple Mount, we made a stop at the Western Wall Plaza where we had the chance to see not only the Orthodox Jews praying at the wall, but we also got to watch several Bar Mitzvahs take place there too. It was a great opportunity to come to a better understanding of the Jewish faith and the traditions they have adopted over the centuries.
From the Western Wall we made our way to the City of David where the students had the chance to get their feet wet in Hezekiah's Tunnel. It's a man-made waterway that Hezekiah had made to avoid having the city of Jeursalem taken when under siege and is over 500' long. And when we finished going through the tunnel, we found ourselves sitting on the very steps of the Pool of Siloam! We continue to marvel at the Biblical places everywhere around us!
After lunch we made our way to two museums for the afternoon. First, we went to the Israel Museum where we got to see a model of the Old City which really helped us get our bearings for where we had been walking (and where we will be tomorrow). We also had the amazing opportunity to look at the ancient Dead Sea Scroll manuscripts in the Shrine of the Book. Then, we went down the street to visit Yad Vashem – the holocaust museum. It was a sobering visit indeed.
Tomorrow will be our last day here in Israel. We'll spend the morning seeing the parts of the city we haven't seen yet and then we'll shower, change, and head for the airport tomorrow night. We'll try to get a blog post in for you if we have the chance, but we can't guarantee anything. In any case, we all remain healthy and absolutely loving our time here. We're grateful for your continued prayer support and cannot wait to share with you what an amazing time we have had here. We look forward to seeing you soon!
Shalom from Jerusalem!
Matt Lantz

Today's Photos