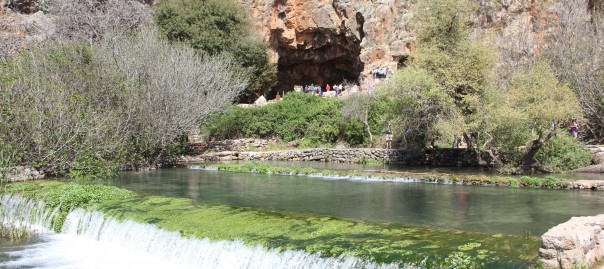 Day 5 – Declarations of Faith Mar 14
It's been another big day here in Israel! We are settling down again in our hotel beside the Sea of Galilee and are reflecting on a full, rich day of the Lord revealing more truth to us through His Word and this glorious land! We took time this morning to read Psalm 96 together and then praise the Lord for all that He's revealing to us along this journey. Our Lord is greatly to be praised for the good work He's been doing in His people for thousands of years and for continuing to include us in His story.
We began our morning in Bethsaida, one of the triangle cities where Jesus did most of His ministry. We read from Mark 8 about Jesus healing a blind man in Bethsaida. Leading up to this story, Jesus' criticism of the disciples is their inability to understand for themselves who He is. Jesus performed the miracles both for the benefit of the blind man and for the disciples. Our understanding of God unfolds as He reveals Himself and we are dependent upon Him to open up our own blind eyes.
Our next adventure led us on a breath-taking hike along the Jordan River to a beautiful water fall. After taking in the beauty and snapping a few pictures, our hike led us to Caesarea Philippi, an ancient city of pagan-worshipping Gentiles. Jesus arrives here with His disciples immediately after the healing of the blind man in Mark 8. We followed the same journey the Jesus led His disciples on! It is here that Jesus asks His disciples, "Who do you say that I am?". Matt shared with us powerful truth about Peter's declaration in Mark 8:29 that Jesus is the Christ. Peter couldn't have known this for himself apart from the Lord revealing Himself to Peter. It is this declaration of faith by believers that the church has been built upon for generations.
Next, we went to the ancient city of Dan. 1 Kings 12:25-30 tells the story of Solomon's son Jeroboam placing a golden calf in the land of the tribe of Dan. We sat looking at the place where the calf used to stand and learned about the shipwrecked faith of Dan. As believers we must make sure that Jesus remains the object of our faith, because even our good intentions can blind us to our own idolatry and cause us to forget the identity the Lord has bestowed on us as His children.
We arrived at the last triangle city, Chorazin, a city remembered for appreciating Jesus' ministry and not responding to His message. Matt shared with us about life in a Galileen city. He had us all stand inside the ancient ruins in what would have been a house and continued a lesson that we've been learning since August. We are not designed to be self-sufficient people; we are created with an individual identity in the Lord and also a corporate one as the body of Christ.
Today was filled with a lot of beautiful truth that I know I'll be thinking on for a long time. Today ended on the bank of the Jordan River where three of our friends were obedient to the call of Christ on their lives and were baptized! Being here in the Holy Land is an indescribable experience- but seeing all the sights where Jesus walked pale in comparison to the awe and beauty of seeing our friends step out in faith and declare their submission to Christ. We rejoiced with our friends and Matt reminded us that every day is an opportunity to declare in faith who we are in Christ and to walk in the faith that He himself has revealed to us by His grace.
Thank you for journeying with us! It is nearly impossible to put into words all that the Lord is teaching us. We are walking, learning and laughing a lot and can't wait to share more stories with you soon!
Barbara
Today's Photos