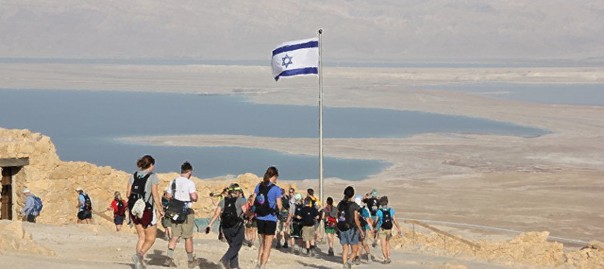 Day 2 – Flourishing in the Wilderness Mar 11
Good evening from the Salt Sea! We've just returned from our first day hiking the land of Israel and we had an incredible time! Today was a day full of majestic views, challenging spiritual truth, and sweet times of fellowship with our friends.
We woke up early this morning so we could fit everything in. We began at the Makhtesh – a large Grand-Canyon-like crater in the south of Israel. We hiked down into the crater and focused on the story of the Exodus and the lessons we can learn from the desert. We focused on the fact that God uses the wilderness to draw people to himself and give them an opportunity for faith.
After about a 3 hour hike through the desert, we boarded our bus and next found ourselves in a Bedouin tent where we received genuine Bedouin hospitality and learned more about the culture of hospitality among those people. It was a fitting lesson immediately following our time in the desert where it became clear to us that surviving in the desert is not possible alone; we all need the hospitality of community.
Then we drove north to the most popular national park in all of Israel: Masada. After bravely hiking the snake path up the mountain, our tour guide, Ronen, told us about Herod, the Zealots, and why the site has such national significance for the Jewish people. It was a beautiful hike, a compelling story, and a great opportunity for us to take in a piece of Israeli culture.
As if that weren't enough, we finished up our day with the once-in-a-lifetime experience of floating in the Salt Sea!
It was a BIG day indeed and we are grateful for your prayers for us. We are all doing well; God has given us great weather and we are just loving our experience so far. We do miss you all though and look forward to telling you all about what we are learning.
More tomorrow!
Matt Lantz
Today's Audio
Matt Lantz – Makhtesh
Ronen – Masada
Today's Photos