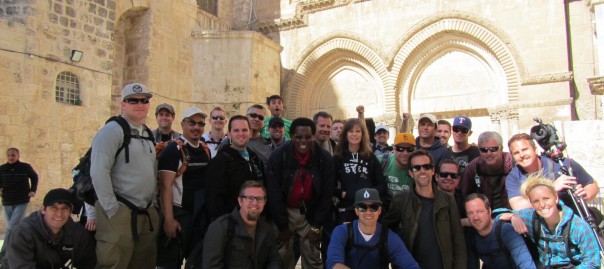 Pastors Toughts Jan 17
Rich Ferreira
Wow what a crazy 10 days. Even after having the opportunity to travel to Israel 14 different times in the past years I am always overwhelmed by the land of the Bible and seeing the scriptures come to life. It has been a privilege to spend this tour exploring the land with these great guys and on behalf of Hume Lake and GTI Tours we all believe that it was well worth the time and investment. As I write this it is tough to think about leaving this place as well as our great Israeli friends who have opened their land and hearts to us. Our hope is that you have gained a glimpse of Israel and our trip through the blog and that you will engage us in conversation about what we have learned when we return. Shalom
Dave Nichols
Wow, what an experience this has been. Â I honestly didn't know what to expect going into this trip, but it has blown all expectations. Â First of all I have met some incredible people who love God with everything and who love to have a great time. Â Not only were incredible relationships built but learning some of the culture here in Israel and seeing first hand the sites of the scriptures really has brought clarity and understanding the scriptures. Â I am excited to teach God's word with a new fresh perspective to bring the Israel experience home.
Matt Davis
This is my eighth time to Israel and in every way this trip has taken the familiar and brought me to a place of unfamiliarity. Â I thought I knew what I could expect and thought I knew what I could anticipate from the stops and sites. Â Despite the volumes we've learned about Jesus, His land and His Word, I find I'm still so far from where I want to be. I'm coming home with renewed motivation to dig deeply into the Word and share it, a new group of really good friends I want to stay connected with long-term and a heart to love and disciple my family. Finally, I feel the Lord somehow leading me into an equipping ministry to educate the church on its Jewish roots and embracing the fullness of the Word, both in the Holy Land and in the church.
Eric Wakeling
I came on this trip wanting to take notes and prepare for the trip that we will lead in April. I was able to accomplish that but I think my biggest takeaway is the "insula" or community of the first and second century. We didn't just learn about community, we experienced community with each other. I loved learning and laughing with this eclectic group of amazing men and women. My goals are to grow in hospitality and community in the next few months.
Shawn Gendall—Calvary Church of Pacific Palisades
The land of Israel, experienced with this group, exceeded every hope I had for growth as a disciple, husband, father and pastor.  In one week we walked the whole story of the Bible, from earliest call of Abraham to the place where Christ will make his return.  Spiritually, I was profoundly moved by our hike to the summit of Mount Arbel, overlooking the Sea of Galilee.  Relationally, some of my most treasured memories were the bus rides and dinner tables where the lessons continued to come alive.  As a shepherd of students, I am so grateful for a fresh storehouse of stories, pictures, and wisdom.  It was truly an amazing week!
Mark Stepp
I thank God for Hume Lake and GTI for giving me the opportunity to see and learn about the Holy Land.  I am forever changed!  The things I learned were overwhelming, but amazing and necessary.  The most important thing I've taken away from this trip is a greater love for God and his Word.  The Bible went from black and white to color; 2D to 3D.  I'm convicted that every seminary student should go to Israel and every pastor who has never gone, MUST GO!  I know that God  is going to use this trip to impact the people I minister to. May Hume and GTI continue to use more trips to Israel to change the lives of pastors like myself for the glory of God and the good of his people!
Scott Belon
Spending the last 8 days in the Holy Land has been an experience I will never forget. The immense amount of information, biblical history and physical experiences I have gained from walking in the places Jesus walked and in places OT stories occurred will forever shape the way that I read, learn from and teach the Word. As a Christian it has enhanced my understanding of the Word and has personalized the stories of scripture in a tangible way. As a husband and dad I hope much of what I have learned will influence the way I lead and guide my family spiritually. As a pastor I hope to teach the Word in a new and fresh way simply because of the way the Word has come to life for me personally. My hope and prayer is that the heart impact this trip has made will trickle down to my family, my ministry and my life overall in a powerful way. I look forward to the next time I can come and continue to grow and learn in even new ways.
Shane DiLisi
As our time comes to an end here in Israel, i am overwhelmed by all that we have done. Not only by what we have seen, but what God is doing on my heart in the midst of walking through the Holyland.
The Bible is definitely way different now than when I arrived in Israel. God,s Word is in color and 4D. Walking where Jesus walked is huge, yet I was even more encouraged that he will return the same way he left. We got to visit the mount of Olives and dwell on the fact that Jesus will come back as a conquering King. My heart broke for the Jewish people who have missed their Messiah and have bought into the religiosity of the culture. They are so close to the past temple and holy of holies, yet so far from a relationship with God through Jesus Christ. I have a greater love for the Jewish people and for Israel as a whole. I look forward to bringing people from my church, Lord willing. Three words will continue to move in my heart from this trip: no compromise, hospitality, and community. May God continue to change our lives through the renewing work of his word. My life, family, preaching, and devotion to Christ will never Be the same. Thank you Rich and thank you GTI for a great tour!
Rich Baker
This was my third trip to Israel and it was just as incredible as my first time. It was amazing sharing this experience  with amazing friends and meeting new ones on the way. As I reflect on my time here in Israel I can't help but think about the city of Chorazin. I was impacted and reminded about the importance of community. This trip and that place specifically has excited me to go back home and try to put Into practice some of the things that I learned about community and hospitality. Of course the main take away every time I come here is that I am always reminded about the power and big picture God that I serve. I get to see the Bible come to life and every place I visit I am blown away and humbled at who He is. I look forward to one day having the opportunity to come back with my wife Allyson, I know Israel will be a trip of a life time for her as  it has been for me for the third time.
Jay Cordova—Pastor of Student Ministries Torrance First Baptist Church
Although I have thoroughly enjoyed our journey through the land of Israel, and as anxious as I am to return to my family, I would welcome the opportunity to continue to explore this amazing country. In the brief time that we have had, I have gained a great appreciation and better understanding of how God has molded and shaped His people throughout human history–a process that continues today both for Israel and for His Church.
As I sat atop Mt. Arbel, one of any number of places where Jesus may have retreated to be with the Father, I was hit with the reality that the majority of Jesus' ministry in the Galilee took place in an area not much bigger than my own city. We all know of the call to make disciples even to the uttermost parts of the earth, but how often do we look past our own neighborhood or our side of town to foreign lands in response to that call? I like how Jesus took the everyday surroundings, objects, and circumstances where He lived to communicate God's love and truth to people in search of hope–people we all encounter in our own daily lives.
Because I have experience so much in this short trip, I know that my mind will be swimming for some time as I process the sights, images, and teaching I have received. I pray that God will use all that I have learned to bless others. What's exciting is that the journey continues as my appetite has been whet to deepen my understanding of His Word and keep on learning. Blessings and Shalom!

Derek Geer
This trip to Israel has been nothing short of impactful for my life. Â I've been able to see something new in my perspective of the Christian walk. Â I've realized the importance of heritage and how I need to pass on to the next generation the need to be set apart while at the same time loving everyone around me the way Jesus did. Â Seeing all the sites and ruins have been a great reminder that they in of themselves are not holy, my Savior is! Â I'm truly thankful for the opportunity to have participated in this great adventure!
Troy Norling—
Horizons Community Church
Peoria, Az
I  came into this trip with very high hopes. Those hopes seem so small now as God has done so much more than I ever could have imagined.  If I could put one word to summarize this trip (which honestly is impossible),  it would be "Community". I simply long for a deeper and more authentic life of Community.
Community with my wife, community with my family, community with my friends, community with my neighbors,  community with my church, and most of all community with my Abba Father through our Savior Jesus Christ.
I look forward to the road ahead. I will always remember the road behind. And in the present I want to be a better man of Community.
Tom Radanavich
It has been a life changing experience over the past 8 days. Reading the 5th Gospel, Israel, has made it clearer then ever that God uses people and places in a way to show not only who He is but that His provisions are all we need. From barren deserts to overwhelming waterfalls God has taught me to look for Him in the world around me not just here but when I get home. Witnessing and experiencing the too often forgotten art of hosipality. Holding sacred the time spent with family and remembering how important it is to share who God is and what He has done is something that I won't soon forget.
Robert Watson
I knew when I set out for Israel that this experience would be amazing.  I imagined when I stood where Jesus taught and saw the sites mentioned in the Bible I would be overwhelmed with the emotion of those locations.  What I found in Israel was much deeper.  Rather than feeling a bunch of emotions, which would be gone the moment I left, I found a clarity to Scripture that I didn't even realize was missing.  God created, chose, and used this land for a reason.  The very ground we walked on from the desert to the springs, from the mountains to the fertile valleys, from the village to the city, everything shouted the gospel and built a context for which we understand God's Word.  I believe the number one issue in poor teaching/learning is to take Scripture out of context.  We do this when we focus on a verse without looking at what is being said before and after.  We do this by ignoring key elements such as time, culture, author, and audience.  We do this by ignoring the location and the land.  We also do this by ignoring the Old Testament and the foundation of Judaism which is fulfilled in Christ.  This trip has been much more than a history lesson, it has been an incubator for learning culture, values, and the very setting in which God chose to deliver His most important message to mankind for all time.  I leave here with a deeper understanding of the fact that God desperately loves each of us, He has gone to great lengths to make Himself known, and His most glorious temple still stands as a light to the world.
Brandon Hall—Student Ministries Pastor, GraceSLO
Before coming to Israel, I had read and studied a lot about the places that we would see. I had high hopes for what I would experience and walk away with from each site. Needless to say, I was blown away by how powerful each site was. I was left speechless & amazed by how much I learned by simply being in Israel and learning more about the cultural implications the gospel has on my life. Experiencing the land that Jesus taught and worked miracles in has opened my eyes to truly savor my savior more. I have a much better understanding of the text in light of the culture, history, and geography after being in Israel. This trip has both changed the way I will read and teach the bible forever. Secondly, This trip has given me a greater passion for the proclamation of the gospel so that all who her of Jesus might be saved! I can't wait to get back here again soon! Grace and peace.
Chris
I had an excellent experience on this trip and gleaned much.  I have been enthralled by the comparison of ancient Israel and Israel today.  Many of the same issues that plagued the Israelites 2000 even 3000 years ago plague them today in a similar manor.  The insecurity they have on the boarders as well as secular Jews verses more orthodox Jews add to the intrigue of the incredible providence of GOD.  The tensions in the society today are not too much different then they were in ancient times.  The relevance of the archeological finds are jaw dropping and just continue to prove the accuracy of the scripture that we hold in our hands.  The fresh digs that are just months old continue to add to the case of divine intervention throughout history.  It is so interesting as we live in a relativistic world where people are afraid to stand for anything that undeniable truth just continues to be literally dug up in front of our very eyes.  Jesus is not denied by Jews or Islam because there is too much proof for his existence.  The question remains who do we say that He is, and the evidence continues to prove His deity.  I was surprised to see how small the setting for His ministry started in Galilee and surprised to see how large the setting in which He finishes in Jerusalem.
Rich, I am again impressed with yourself and the Hume staff. Â I had a chance to talk to many of the pastors on the trip and their testimony as well as talking with the staff showed me that you are doing a great job with the ministry that God has put you in. Â Please give me the email that I can send some feed back about this trip. It was a real pleasure to be with you all this last week. In Christ, Chris.
Tony Tiemann
Wow!  Hard to summarize in a few words my experience I had in the Holy Land.  It was so much to take in and absorb, but I know that God has used this time to grow me in my relationship with Him.  The obvious take aways are just seeing and going where the heroes of my faith have walked, lived and ministered.  Seeing the land and the lay out will definitely help make the scriptures more understandable to me and the people I am blessed to shepherd.  The thing I did not expect was how the people of Israel and their story in the present and the past would speak to me.   I have been impacted by how they prioritize family, community, education, perseverance and their dedication to God.  I was also very blessed and ministered to by the people of GTI and Hume Lake Christian Camps and the other servants of God that I got to roam the country with.  Thanks be to God and thanks to all who prayed and supported me to be a part of this trip of a life time!
Jeff and Pattie Krohn
A tourist travels to new or different places for the purposes of "pleasure." Â A "pilgrim" travels for "religious purposes." Â I suppose those who were aware of our trip to Israel would be classified as one or the other. Â  At the conclusion of this experience, we find ourselves searching for another term: a term that describes change, transformation and discipleship. Â While the trailer describes this trip as taking the scriptures from "black and white to color," we feel that Scripture has moved from "two-dimensional" to "3-D." Â  The truths are just as true, but they have "come toward us" and "engaged us" in a richer and deeper manner. Â The smells, sounds and images we have absorbed have, hopefully, become a part of the fabric of our walk with the savior, to be "released" as we study, teach, lead and interact with those God has (and will) place in our path. Â  This new dimension is a precious gift to enrich us as continuing "pilgrims" seeking His pleasure.
Randy and Megan Marshan
As we walk away from this incredible week in Israel, we take with us incredible gifts. Â Being able to see the places where Christ was born, the area where he taught, and where he was Crucified has brought the bible and the life of Jesus a new sense of nearness. Our conversations have been rich with a renewed passion for God's Word. Not only is there a mental picture to the locations we read about, there is a story and context that brings real emotion to the names on the pages. Jesus was a real man surrounded by a real culture and we are walking away from this trip grateful to have experienced it and are more equipped to share as witnesses to it all.
Jay Johnson
I have spent 38 years learning about a man named Jesus and a book called the Bible. This trip to Israel has dramatically changed my understanding of both. In some ways I feel like I am just beginning to get a glimmer of understanding.  Walking and learning with our group, visualizing David confronting Goliath, experiencing hospitality, crowding into a 2nd century house for teaching (Mk 2), seeing, listening, reading, reflecting on  the sermon on the mount with the Sea of  Galilee at my back and the hill in front if me,  eating together,  climbing mountains, reading the text, reflecting on the cultural significance, standing on the Temple Mt, walking through the streets and the markets of Jerusalem,  the weight of the Garden of Gethsemane on the Mt of Olives…  I could go on and on! It truly has been a life changing experience as only Christ can change lives.
Audio from this day
Ronen: Burial Talk – Part 1
Ronen: Burial Talk – Part 2
Rich Baker: Teaching at the Pool of Bethesda
Ronen: Teaching at Yad Vashem
Singing in St Anne's Church
Today's Photos