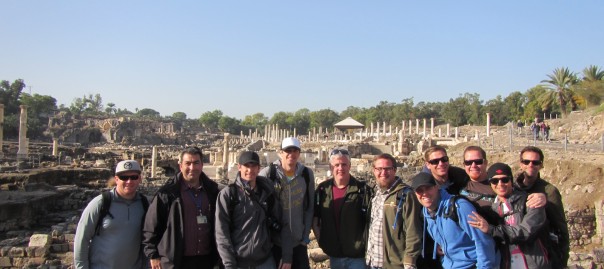 Day 7 – So Alive and In Color Jan 15
What an awesome day!  We left our home in Galilee and headed for some more key Biblical sites before the great city of Jerusalem.  After our drive through Tiberias and pointing out historical sites from our bus we made it to…
BET SHE'AN
It was such a different experience at this Roman city.  In contrast to the many Tel's we have seen in the region of Galilee that are simple, Bet She'an has an extravagance about it.  It is one of the largest Roman cities of its time.  It was said to have 80,000 people live there.  We took a simple walk through the national park and then took a short hike over a hill and then you see the amazing site of the center of this large city.  The city had a lot of entertaining sites.  It had a theater, a gym, a sauna, swimming pools and one of the first community bathrooms.  It had huge columns and great architecture and such wonderful detail of the limestone that was brought in from the coast.  We were all overwhelmed by the size of the city and we marveled at what this city brought to the 1st century, so much entertainment, yet so much temptation for a young man from the Galilee region as he made his way and traveled through Bet She'an.  It reminded us of our culture in the states and we can compromise at times as well and are tempted and pulled away from a pure dedication to Jesus Christ.  We read Hebrews 12 to understand this race we run in our Christian lives.
After many teachings in the bus from our excellent tour guide Ronin we stopped off and walked up to the city of…
MEGGIDO
This Tel has 26 layers of history in it.  We saw and heard of the many civilizations that represent Meggido.  We viewed a large altar that predates the time of Solomon.  But the thing that struck us was that Solomon left those places of pagan worship and didn't tear them down.
On top of it is a great view of the valley of Meggido.  As we viewed this valley it was fitting to read the passage in Revelation 19 where it talks about the ultimate destruction of the wicked and the lawless man.  God will pour out His wrath on those who do not believe in Jesus Christ as Lord and Savior.  And then we were reminded of our great and blessed hope we have as believers when our King returns to set up His kingdom here on earth.  Praise God for our blessed hope!
We stopped off and had lunch on our way to Mt. Carmel.  It was a decision between a Schnitzel or Falafal.  I tried a Schnitzel and it was delicious.  We had good talks around the tables as we process all that we have seen today so far.  Then we took a short drive to…
MT. CARMEL
What a great site of awesome Biblical history from the 18th chapter of 1 Kings, we all know the story of God showing that He is all-powerful and the only one who deserves worship.  Kip delivered a powerful message on the mountain.  We were reminded of God's smack down on these 450 prophets of Baal and 400 prophets of Asherath.  God is supreme!  I am reminded in the text when Elijah says, "How long will you go limping between two different opinions?  If the LORD is God, follow Him; but if Baal, then follow him."  This is a great story of God doing the impossible and that we must follow the one true God Yahweh.  What powerful truth from God's Word.
We took a drive to our last site of the day and ended up at Caesarea.
CAESAREA
This is a magnificent city on the coast of the Mediterranean Sea.  It was a place of trade, entertainment, and a place where the Apostle Paul had some run ins with the authorities.  This was a place where Paul was kept in prison and stood before men like Festus and Felix  and shared his testimony of what Christ did in his life while on the road to Damascus.  Jesus had totally changed Paul's life and made him a new creation.
We sat in a theater that fit about 7,000 people.  This city was a port city and it was a city that had about 120,000 people living in it.  This was another Roman city and had to have a 17 mile aqueduct from Mt. Carmel to Caesarea.  Because this is a city on the coast, we were able to get some awesome shells and marble pieces from the site.  Those were some good souvenirs to take home with us.
Then we drove an hour and half for our fourth and last hotel we will stay in, in the great city Jerusalem.  We are looking forward to the next two days we will have here as we see more sites where Jesus and His disciples walked.  The Bible is becoming so alive and in more color for all of us.  We can't wait to get home and share all that God is doing in our lives.  What a blessing to be in Israel and learn all that we are learning.  God is just moving and working in this team. Continue to pray for us as we end our time here in Israel.  We love you and miss you!
Shane DiLisi
Rancho Baptist Church
Audio from this day
Curt Teaching at Meggido
Kip Teaching at Mt Carmel
Rich Teaching at Bet Shean – Part 1
Ronen Teaching at Bet Shean – Part 2
Today's Photos