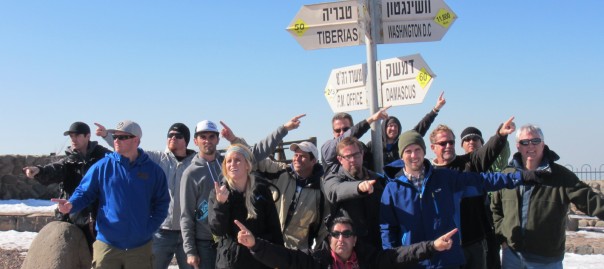 Day 6 – Live Like We Truly Believe Jan 14
We began our day with a drive north from the Galilee to the Golan Heights. The Galilee is green this time of year but the Golan is even more lush and beautiful. Just geographically and in terms of natural beauty, this is my favorite part of Israel.
First, we went to Gamla, a stronghold of the zealots on a mountain that looks like a camel. Simon the Zealot could have been part of this community. They were one of the last holdouts against Rome, except for Masada. I love thinking about how Jesus chose fishermen, tax collectors and these militant zealots to be his disciples. What a crazy bunch they must have been during dinner conversations. This place has a beautiful canyon, waterfall and many birds and would be a perfect place to go for a hike.
Mount Bental was our next stop which is a military bunker on the border of Syria. We looked up the road to Damascus considering the place where Saul became Paul. This could be an active military bunker in four hours if the need arose. The special treat of this place today was that it was still covered in snow. We could see Mount Hermon completely white with snow and were able to have a couple snowball fights using the bunker enclosures for hiding spots.
Then we headed to Banias Falls where the river and falls were so powerful that our amazing tour guide, Ronen, said that he hasn't seen it like this in 20 years. This powerful flow becomes part of the upper Jordan River but begins in Caesarea Philippi which was our next stop.
Caesarea Philippi is one of the most interesting and inspiring stops in all of Israel. Rich Ferreira gave an incredible message on Matthew 16 where Jesus says "upon this rock I will build my church and the gates of hell will not prevail against it." He is actually referring to the huge rock cave in this place that was considered a gate to the underworld and a place of repulsive, perverted worship to the god Pan. Jesus is saying that the church will even be built on places like this with people worshiping pagan gods in such sinful ways. Jesus asks such a crucial question to his followers. Who do YOU say that I am? We need to live like we truly believe that he is the Messiah, the living God.
Before the day was over we made one last stop at Tel Dan. This is where you can see the way the city gates worked and a beautiful nature reserve. This is also the place where the tribe of Dan settled after lying, murdering and worshiping false gods. Jeroboam, one of the kings of the divided kingdom of Israel, established an altar with a golden calf so that the people of the northern kingdom would not go to Jerusalem. A prophet brought a curse on Jeroboam and this altar. Sadly, the tribe of Dan is not mentioned amongst the other tribes sealed in Revelation 7.
Such a beautiful day in the north of Israel. I can't wait to return.
Audio from this day
Eric Teaching at Tel Dan
Israeli War History
Jay Teaching in Katzrin
Ronen Gamla
Today's Photos