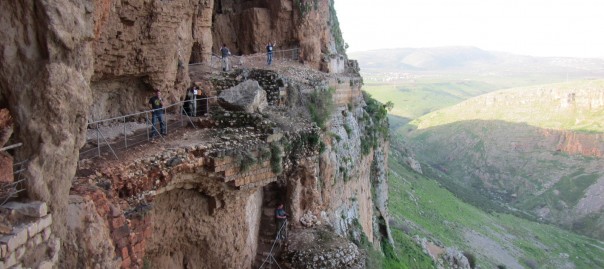 Day 5 – Pushing Through, Smooth Sailing Jan 13
Hiking the cliff-side of Mt. Arbel (translated by some "God's Ambush") required, at least for me, pushing through anxiety-producing-fear. Mostly rooted in the fear of coming back down its steep cliff, Meghan (one of the other three gals on our trip) became my new BFF when she "let it slip" that we didn't have to hike down; a bus was waiting at the top to take us down the hill! I LOVE Meghan! Because of Meghan, I jumped at the chance to explore the first century Crusader castle built into the mountain's crazy cliff. Reaching the top, the view of Galilee and its Sea rocked my soul –literally.  To look upon the region in which Jesus evidenced that He is the Son of Man and the Son of God was overwhelming. I think we were all ambushed.
Standing on the shores of the Sea of Galilee, we read John 21, where Jesus cooked breakfast for His fishing disciples after His Resurrection. Feeding them physically and spiritually, He evidenced His desire to continue loving AND using them. I know I cannot even imagine what this moment meant for them, especially Peter, but the LORD made the experience come alive for us: on the shores was the remnant of a small fire. It was as if Jesus was there the day before!
Sitting on a mountainside thought to be the site of Jesus' teaching of Matthew 5-7 (the Sermon on the Mount) was like coming home. As His Kingdom was described and His hearers invited in, we also entered in as His timeless Words were read aloud.
Walking through the ancient village of Chorazin, we were reminded of the beauty and gift of community. As we sat upon the basalt remnants of family houses we could see where each generation would "add onto" their parent's home (all surrounding the synagogue).  Our western individualism was challenged to live today in community as we look forward to our eternal community – in our Father's house.
Contemplating in Capernaum, Jesus' hometown during His earthly ministry, was amazing. As we viewed where Jesus literally walked, taught and healed, it was a mind-blower to know we were walking exactly where He walked. As we did, we were challenged to consider if we really do walk where He walked each day. Do we deny ourselves, carry our cross and follow Him daily? Ouch!
Sailing ended our day.  On the Sea of Galilee, we were thankful that the LORD did not decide to add more "reality" to this experience by whipping up some winds for us, but the Sea was so smooth and the whole day so powerful, we almost wanted to try to walk on water!
Pattie Krohn
Director of Women's Ministries
Trinity Community Church
Audio from this day
Kip Teaching at Capernaum
Rich Baker Teaching on Mt. Arbel
Rich Ferreira Teaching at Chorizan
Today's Photos