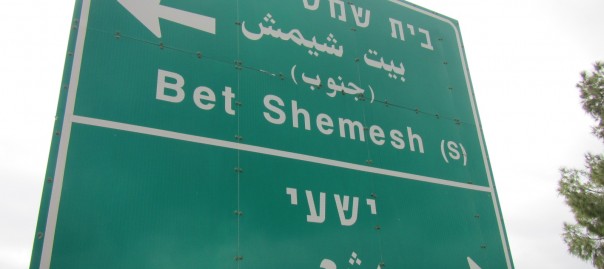 Day 2 – Remarkably Unnoticed Jan 10
Snow.  It snowed the night before and this morning.  Our team woke up to an Israel covered in white.  Our day was supposed to start at 7:30am.  Instead our bus driver Egal was stuck ten minutes away from us due to closed roads.  He waited there for about 5 hours.  Later I heard it was one of the biggest snows in Israel in the last 20 years.  Delayed but undeterred we started our day around noon.  On the site list for today was Bet Shemesh, Bet Guvrin/Maresha, the Soreq valley, and Azekah and Socoh in the Elah valley the site of David and Goliath's conflict.
Most remarkable to me was how unnoticed that location was by those around it.  There was no tourist office, and no other people around.  There was trash that littered the field and what looked like a taco stand across the street.  Yet one of the most iconic battles in history was fought at this location.  We gathered stones from the stream that David gathered his from, we peered down the hill to see what the perspective of the Philistines and Israelites must have been, and imagined the conflict in the center of the field of the Elah valley.  It was an incredible experience.
In the caves of Bet Guvrin we took time to contemplate the olive press.  A system of tools which were used to crush olives until oil poured forth, providing the Israelites with a very valuable commodity.  One they value even today.  We remembered that Jesus was in the garden of "Gethsemene" or the garden of Olive Presses, and that his spirit was "crushed" to the point that he sweated blood.  We remembered that Jesus himself was "crushed for our inequities and pierced for our transgressions" and blood flowed from his body, giving us the most valuable, life giving outpouring of all, his blood for salvation.
To those at home, thank you for your continued prayers, we will take plenty of pictures, and we miss you.  Shalom.
Mike Smith
Atascadero Bible Church
Click here to view a map of photos taken today
Audio from this day
Audio clip 1: Ronen – Carb Tree
Audio clip 2: Rich – Cistern
Today's Photos