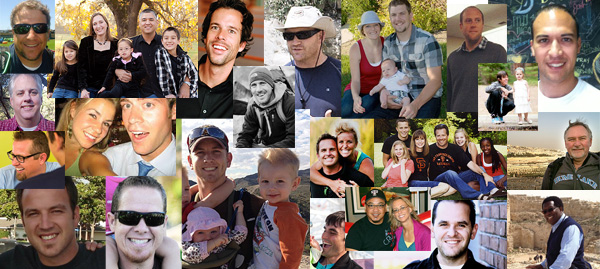 A Journey of a Lifetime Nov 11
Rich Ferreira
Trip Leader
On January 8-18th of 2013 a group of 28 pastors and teachers (in association with GTI tours and Hume Lake Christian Camps) from different churches and schools throughout California will be traveling together on a once in a lifetime study tour of Israel. We invite you; friends, family, coworkers and church congregations to follow this blog and journey together with these guys as we open the Bible and ask God to reveal himself to us through the context of the land in which it all took place. Our hope and prayer is that through the investment of this trip these men and women will come home with a deeper passion for God's word and in return invest that back into you. Below is a short thought from each of the participants with what they hope to gain from the tour. Please take the time to get to know them and be praying for this group and our time in Israel. Once the trip begins we will be updating daily so check in often to see updates on what we are experiencing and learning.
Susannah (Sue) Martinsen
Going to Israel is a journey many wait a lifetime for and to know I am going in the very near future is humbling and thrilling at the same time. I can recall ten years ago being asked if you could go anywhere in the world where would it be? As a brand new believer at the time my reply was simple, "I want to set my foot on the very ground Jesus walked, lived, and breathed upon." Since then my husband and I have attended seminary and seen scripture come much more alive as it's studied in proper historical, cultural, and geographical context. With that said, Jesus himself has come more alive in the process. To now have the chance to look at where this Jew from Galilee lived, and study what the prophets have said in the very land they scribed from, is so exciting! I believe a single trip of such significance can impact one's life in such a way they will come back forever changed. Throughout history Jewish people have traveled long and far to celebrate Passover in the Holy City, saying "This year in Jerusalem" . . . alluding to the Messiah's return. I too can now say in a sense, "This year in Jerusalem" with great joy and anticipation!
Christian MartinsenElder/Pastor (Associate), Church in the City, Chicago
Independent Studies Coordinator and Adjunct Professor, Moody Bible Institute
I've traveled a pretty fair amount thus far in life, and Israel had never been at the top of my list to be honest… I simply don't think I valued the significance a trip of this nature would provide. Ultimately, the vision I had of an Israel tour was a bunch of elderly folk riding around in a bus from stop to stop. Not the adventure thrill that typically inspired me. In contrast to that, the Lord has highlighted "Israel" time and again in ways too many to mention over the last several years. Just one of those ways includes my interaction with Joshua Wilderness Institute and Rich Ferreira the last two years while working at Moody Bible Institute. The testimonies and experiences that they regularly produce in partnership with GTI tours are incredibly unique to everything I'd previously been exposed to. The philosophy and passion of GTI is also completely foreign and refreshing! I am inspired to use this trip to spark creative ways to partner with GTI tours in my role in education at Moody, as well as leading groups through my church family here in Chicago. I've seen the transformational influence these trips have had, and know that this trip will mark my life and those I lead well into the future.
Mark SteppDirector of Student Ministries
Oceanside Christian Fellowship
I thank God for what he's doing through Hume Lake by providing such an amazing, once in a life time opportunity. I'm super stoked about going to Israel because God chose that area of the world to glorify himself in so many ways. I'm beside myself knowing that I will walk the land that my God walked on. Christian philosophers talk about having "knowledge by acquaintance" versus "simple knowledge." Knowledge by acquaintance is experiencing the thing itself, while simple knowledge is just knowing about it from a distance, or in the abstract. I've read my bible through and through, but I feel like I don't really "know" it until I visit Israel and see, hear, touch, taste, and smell what it's really like. Without a doubt, I expect this trip to forever impact my life and the calling God has given me. May this trip glorify God and may it help me help the people I serve to glorify Him too!
Dave NicholsStudent Ministries Pastor
Missions Hills Church
I am so excited about receiving the call to participate in this year's trip to Israel. I have been in bible college and seminary for what seems to be forever and it is one thing reading about the Holy Land in books, but I believe it will be a new thing all together to witness these places first hand. I look forward to putting in the study time beforehand to best prepare myself for what we are going to experience there. I look forward to building relationships with other brothers as we get to see the things Jesus saw and walked where he walked. I can only imagine how this trip is going to bring to life the ministry I have already been doing, and really add color to my teaching!
Robert Watson Student Ministry and Young Adults Pastor
Sun Valley Community Church
As I study and teach the Bible I constantly find myself reading and communicating through the filter of American culture. When Jesus starts talking to fishermen I imagine him hanging out with the Northwestern crew on Deadliest Catch, or when He refers to the rich I think of Oprah and Mark Zuckerberg. Much is lost in translation when I filter these things through my own frame of reference. There is so much depth to the message and ministry of Jesus found in the context in which He spoke. His message of salvation for the world was wrapped in cultural imagery within a context of societal norms. I love to dive into the context of God's word using study tools, handbooks, and encyclopedias, but even with those tools I have to fight off my personal filters. I am looking forward to leaving the filters at the airport and stepping into the actual geography and pockets of preserved culture, to see with fresh eyes. I know it may sound cheesy but I want to see, smell, taste and feel the region for myself and allow the ancient messages of Scripture to come alive in a new way. That is the primary thing I am looking forward to. Secondary is that fact that I enjoy a good hike.
Shane DiLisiStudent Ministries Pastor
At Rancho Baptist Church
As the excitement grows for this Israel trip in January I am looking forward to a few things. The first is to experience God's Word in such a way to see the places and sites where Jesus walked and to have God's Word come to life. I want to return from this trip energized to share with our JH and HS kids the things I saw and places I was able to travel that are in Scripture. As I teach through the Gospels I want to say I was there at the Sea of Galilee. The second thing is I desire to understand Jewish culture and the depth of knowledge that I don't know that will make the Bible come to life. I want to grow in connections with the team and with those I will meet in Israel. And last but not least, I am looking to grow personally in my own relationship with Christ and to bring that to my family back home as I seek to lead them spiritually. And I am also looking forward to connecting with other pastors on the trip.
Joel ElwoodJr High Pastor
EV Free Fullerton
I've heard from a lot of older men that visiting Israel changed the way they walked with Jesus. While my walk with Jesus feels deeply satisfying I look forward to new ways he wants to shape me through this experience. I'm also looking forward to simple things like walking, touching, seeing, and even smelling all that Israel is. I look forward to reading my Bible in Israel. I remember the Bible coming alive in my first OT Survey class as I feel like I got a better grasp on the Ancient Near East. I think a similar thing could happen on this trip to Israel as the Bible comes alive in it's original contexts. I can't help but think it will impact my teaching when I return back home. I recognize the great privilege it is to go to Israel and feel excited for all that God will reveal in my own heart and mind through it.
Jay Cordova
Pastor of Student Ministries
Torrance First Baptist Church
I am so looking forward to the opportunity to see and experience Israel firsthand. The present day sights, sounds, and people are only the tip of the iceberg of unlocking the rich history that Israel has to offer. To actually have the time to walk the land that is the centerpiece of Biblical history, will certainly bring so much of what we read in Scripture into sharper focus and bring me a greater understanding of God's heartfelt message to us. I pray that God will use this experience to draw me even closer to Him—more in love with Him. I'm hopeful that students and families alike will be blessed because of the impact of all that God is going to show me about Himself and His Word. They say that "a picture is worth a thousand words." As one who enjoys photography, I know that even 1000 pictures will not truly be able to convey the experience of being there and all that Israel has to offer, but I will certainly try. Although I would have loved to shared all this with my wife and family, I couldn't ask for a better group of fellow sojourners than this one.
Thomas RadanovichYouth Director
Groveland Evangelical Free Church
This chance to visit the Holy Land is truly a once in a lifetime event. Even if I do make it back to Israel at a later date this is my first time and for the most part I have no idea how God is going to use this entire experience. Already I can see His work in many parts of this trip from being selected, being able to set aside the time and the support of my church staff and congregation. I now have a better understanding and a deeper thankfulness for my church here in Groveland. I have spent time in lines and filling out forms to complete an expedited passport as well as digging into the first two lessons of our pre trip curriculum. Thinking about what I have already done I realize that this is just the beginning. It is challenging me to stay focused, and to make preparations both in my life and my heart for what God will be doing over ten days in January 2013. I am amazingly blessed to be going. I know that I will come away from this experience with more knowledge but most importantly I will have smelt the air, heard the sounds and felt the earth in a place that the hero's from scripture were. And to be taught by Jesus words I have read before, but now get to experience them in a place where He chose to teach them.
Rich Baker High School Ministries Director
Hume Lake Christian Camps
This will be my third time going to Israel and I could not be more excited. I am once again anticipating another unbelievable experience to the Holy land. The last two times I was there I was in awe of the fact that I was seeing the Bible come to life and I have no question that it will be the same feeling this time as well. I am very excited to go with friends that have never been to the holy land. It gives me great joy watching people experience Israel for the first time. I can not wait to see, talk and experience Israel with great friends.
Mike SmithJunior High Pastor
Atascadero Bible Church
It's a dream to go. To visit where Jesus walked. I want to bring the scriptures closer. They feel distant. They feel removed from me. Almost like it took place in another world. But Jesus walked this earth. I want to speak to others like someone speaks when they have actually seen the events they are describing. It's the difference between reading in the paper about it, and seeing it unfold before your eyes. I won't witness Jesus work, but I can see the place where He ministered. I think most importantly, I want to be a trustworthy source of teaching. My calling is to train the saints for greater fruitfulness, to reveal Jesus to those that do not know him. I have the opportunity to do that more effectively with this trip. There are other things I am looking forward to, being with other youth pastors and sharing the experiences with family. But what this could do for my calling is of primary importance.
Randy and Megan MarshmanWomen's Ministry Director
Hume Lake Christian Camps
Randy and Megan Marshman live in Long Beach, California where they have been active at Grace Brethren Church of Long Beach. Megan currently serves as the Director of Women's Ministries at Hume Lake Christian Camps and also works for David C. Cook as the Director of Development and Production for their TRU Curriculum. Randy is currently enrolled in school to become a nurse after working the past 10 years in emergency medical management. After hearing story after story of transformation from others who have had the opportunity to partake in an Israel experience, it is difficult for us not to have the highest of expectations. Specifically, we hope to walk away with a better understanding of the culture, the Bible, the Holy Land 2,000 years later and the Savior who rose again after death. Most importantly, we hope to have a better understanding of how Jesus lived his life and watch as that radically transforms how we live ours.
Brandon Hall
Student Ministries Pastor|GraceSLO
The opportunity to go to Israel is something that I have dreamed about for a long time. I am so stoked to see the hills, roads, seas and towns in which the stories about Jesus that I have read, studied and taught actually took place. I can't wait to see how God will use this trip to grow me in my understanding of the scriptures and of Him. Being such a visual learner, getting to see the places where Jesus showed his love and mercy to sinners here on earth will undoubtedly be an experience that I will never forget. I know that this trip will stir in me an even greater passion to proclaim the gospel to all people, from my son, to the students in my ministry, to my neighbors and the woman taking my order at Starbucks. 1 John 2:6 - whoever says he abides in him ought to walk in the same way in which he walked. Grace and Peace
Tony TiemannYouth Pastor
Parkway Church
Since I was in Bible College, back in the 1990's, I have always desired to go on a Tour of the Holy Land. A close friend from Bible College and I were dreaming and making plans to go to Israel and this dream never came to fruition. Since then I have been busy in ministry and although the church I serve at has had teams go to Israel 3-4 times over the past 15 years or so, I could not go for different reasons. It was a combination of the expense not fitting my budget, the busyness of ministry, and trying to juggle life with a family of three little children. Now with my kids all being in elementary school, and the blessing of my wife and my local church, I am going on the trip of my dreams. I am looking forward to this trip as it is a dream I did not think would be immediately possible, coming true for me. I am humbled to get to be apart of this team. I am excited to experience the Holy Land first hand also with a group of like minded guys I don't know well but have a connection with Christ as well as being His shepherds together where God has each of us. Not being with close friends and family, I feel will provide for me a focus to take it all in. I anticipate God using this tour to further deepen my love for Jesus as I walk where He walked and get to experience with all my senses the places of the Bible. I am told that this will transform my understanding of the Bible and be a life changing experience that takes my reading and my teaching of the scriptures to a different place. I look forward to experiencing this and taking it back to my family, my church and the youth that are in the flock that I am so blessed to serve Christ at. I covet your prayers for our team, for my wife and family, as we will be apart for these 10 days in January. Thank you for taking the time to read this and for praying. May the Lord change me, mold me, shape me, make me more like Him through this journey!
Shawn GendallPastor of Student Ministries
Calvary Church of Pacific Palisades
I am so grateful for this opportunity to travel again to Israel. My first visit there had an immediate, profound impact on my ability to understand, explain, and enliven the Scriptures. It was a whirlwind trip, though, so I am anxious to build on that foundation. As the Lord wills, I (along with my fellow travelers) plan to serve the Church wholeheartedly for the remainder of my life. It will be profoundly humbling and inspiring, therefore, to stand in the cradle of God's restorative work, knowing that he will continue this work through the Church.
Pattie Krohn Director of Women's Ministries
Trinity Community Church
I can remember the first time I sat under a teacher/pastor that interpreted and taught the Scripture in its historical and cultural context. I was overwhelmed by the richness, the depth, the fullness of God's Word. For me, it was then that the pages of the Bible went from black and white to color. Ever since that time, experiencing Israel first hand has been at the top of my bucket list! I know that being in Israel will bring an entirely new dimension to the truths and historical events within the Scriptures. To think of getting to see, hear, taste and touch the land in which God called out and redeemed a people for Himself blows me away! I am expectant. I know this journey is going to hugely impact my own relationship with the Lord and also deepen my passion for ministry-especially the teaching of His Word!
Jeff KrohnElder/teacher
Trinity Community Church
All of the earth was created by God. Each section of soil is unique and wonderful in the intricacies of its composition and the place it has in the biological and ecological system He designed. Despite this parity, there is a drawing to that land, that soil, upon which the footsteps of the incarnation of God, our Savior walked. To be in that place - Galilee, Jerusalem, Samaria, the Jordan - where God "met man" in the most profound way history has known would be, should be, on the list of His followers to understand and be "stained" with the sights, smells and sounds of the land of Scripture. I don't know exactly how or in what way I will be changed, but I know I will.
Troy NorlingPastor of Youth and Young Adult Ministries
Horizons Community Church
From the time I first heard the story of Jesus' love for me, and what He sacrificed in order to allow me the opportunity of an eternity in Heaven, I've always loved to daydream about what that future holds. I truly look forward to what God has in store for us, and it's a passion to sing, study, discuss and meditate on the subject of eternity spent in the presence of Christ. One of the biggest things I'm looking forward to on this trip is taking a look into the past. I want to see and try to grasp the culture that Jesus ministered in: where he walked, what he meant, what they would have understood. I'm looking forward to seeing the pages of Scripture come alive from a first person perspective! Obviously, going to Israel is something that most believers have probably thought about, and I'm no different. I'm so humbled by this opportunity, and I want to give the Lord my all as I do my part to prepare for what He has in store for us, and me. After 25 years in youth work, I'm confident this will only help to prepare me for the next 25 years of God's plan for my life!
Jay Johnson Assistant Program Director
Hume Lake Christian Camps
A few years ago I had the opportunity to travel through Greece and covered Acts 16-19. The impact was life changing. I read sections of Acts and books of the New Testament in color as I can visualize where Paul was standing and to whom he was talking too. Now to have the opportunity to see where Christ stood and places He taught, I believe will draw me closer to Him and bring a fuller understanding of Christ's life and teaching. To see the landscape of scripture come off the pages and study in the actual places that Christ taught is an opportunity of a lifetime.
Chris Lieb Director of Youth Ministries
Haiti Baptist Mission
I am so excited about this opportunity to go to Israel; this is a surprising answer to prayer. I have wanted to go to Israel for many years. A while back my wife and I were looking forward to go with a few other family members but it was not possible for us to go. Winning this trip, unbelievable!!! This will be an awesome opportunity to see and experience the culture of Israel in addition to enriching my understanding of Jesus Christ and His life as He was here in flesh on earth. As a missionary in Haiti, I have many opportunities to teach and mentor youth and leaders in many churches. I am praying that the trip to Israel will increase my ability to teach and proclaim the gospel of Christ with added beauty and color.
Scott Belon High School Pastor
EV Free Fullerton
My name is Scott Belon and I am the HS Pastor at Ev Free Fullerton. I have a beautiful wife, Jocilynn and 3 awesome kids, Jackson, Brooklyn and Payton and we just found out we have #4 on the way. I have been working in youth ministry full time for about 10 years now. I look forward to this trip for many reasons...I am excited to see and taste and walk the places that I have spent so much time reading about over the years with the hope of bringing it to life in a new way in my own faith, my teaching and my ability to grasp the scriptures in their context. I am thrilled to join with other brothers and sisters and to encourage, support and build into each other as we learn through the journey. And I am also pumped to get a healthy break in the middle of a busy year of ministry and life to be refreshed and rejuvenated in my personal walk with the Lord. I seriously feel blessed for the opportunity!
Derek Geer Jr High Ministries Director
Hume Lake Christian Camps
What I'm looking to get out of this trip is to understand more intensely and experientially the events that took place. To be able to walk the streets that Jesus walked and the roads that Paul journeyed and the land that David conquered is truly an exciting thing to me. I want to gain clarity and understanding. I want to know why Jesus talked about certain things in the context of what I see and touch. I want the Word to come alive to me as I touch the things that really exist and not just believe they exist but to know. I want the stories to become real.
John KnightDean, Online Education and Special Projects
Moody Bible Institute
Chicago, IL
I am so elated to be attending this study tour. I have been very impressed with GTI and the educational aspects of Israel. I am very much interested in possibly offering Moody education for a number of GTI tours. I am looking forward to this trip being enjoyable as well as memorable!
Eric Wakeling Executive Pastor of Ministry
Calvary Church of Santa Ana
This will be my fourth trip to Israel but my first trip without having to lead anything. I'm excited to learn and soak in everything for myself. I want to take a million notes to help me lead future trips, but I'm also praying that God will reveal Himself to me in new ways and encourage my heart. Finally, I'm thrilled to travel with a bunch of pastors and Hume guys that I know will sharpen me big-time!
Matt DavisPastor of Children + Families
Calvary Church of Santa Ana
What I want to get out of the trip.... Every time I have been to Israel in the past, God has used that time to reveal more of Himself to me and continue to build my faith in the overwhelming truth of His Word. It's that old adage that goes something like, "The more you know, the more you realize how much you don't know." I was born into a Messianic Jewish family (Jews who love Jesus) so Israel is the land of my people and a type of homecoming for me. I want to walk away from this trip more connected to the Lord, His chosen people and the brothers I get to journey with as we push each other to dig deeply.
Lenny Harris Sr. Director of Program
Hume Lake Christian Camps
Last year I had the privilege of experiencing the bible in a way I couldn't imagine before my trip to Israel. Standing where Jesus stood, walking through King Hezekiah's Tunnel, spending time in prayer in the Garden of Gethsemane as l looked across the valley towards Jerusalem where Jesus entered to die for my sins. The bible does more than just come alive when you experience Israel, it has impacted my faith profoundly. Secondly, I cannot begin to express the joy I experienced as I observed the youth pastors on our trip take it all in. These youth pastors were significantly impacted and their ability to teach the Bible will forever be changed. I am grateful for our friends at GTI who help make these trips possible.