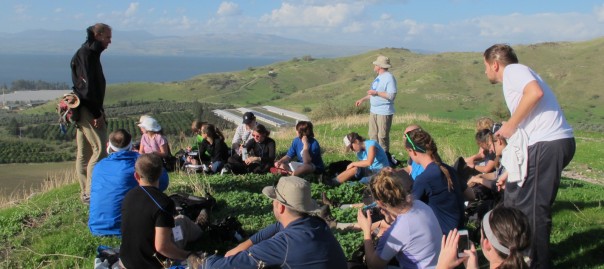 Day 6 – The Calling of our Lives Dec 11
I awoke to the sound of pouring rain on the Sea of Galilee (which is twenty feet from my window – wow). Most sane people would go someplace dry for the day.  Marty, Nedav and  Egal had arranged instead for us to have a boat ride on the post-stormy Sea. This is one of the best gifts I have ever received: to adventure on the same waves on which my Lord once walked, alongside some of my closest (or newest) friends, shrieking with delight and realizing that this Picture is the calling of our lives – to venture out into the chaotic abyss to seek & save.
Instead of one huge hike today we did more of a whirlwind tour of the Decapolis region. We climbed Mount Gilboa, where we read passages about Saul and Gideon and discussed how much like them we all are.  How God always chooses the weak; how we are all so inconsistent in our obedience; how God wants to write God-sized Stories through us that cannot be explained. We also walked through what Marty called "drizzle" (but felt suspiciously like hail for awhile) to Beth She'an, where, for me, by far my highlight of the day was seeing my first flock of middle eastern sheep and their shepherd travel by.  I loved watching the shepherd wait for the two or three stragglers before moving the flock along.
By then God had mercifully dried us off with the sun and we were able to climb up to Susita, where we discussed the story of the man possessed by a legion of demons in Mark 5. I am starting to understand more deeply how passionate God is about going to those who don't yet know Him. He broke cultural norms, defeated insurmountable – or just plain inconvenient – obstacles, and led the way into messy places to reach those he loves.  We ended the day at the Jordan river, where several of our group took the beautiful step of faith and obedience and were baptized at sunset. We ended the day where we began, in some ways: amidst chaotic waters, taking steps to worship God through faith and obedience alongside our brothers and sisters.
As we have examined the Text and as I am understanding the Jewish culture more than I ever have (not hard, since I knew practically nothing before this), it is becoming incredibly clear that "God goes." He goes, he goes, he goes. And he sends us. He has always had a heart for the nations, the broken, the poor, the outcast, the misfits, the humble, the dirty, the unwanted, the inconvenient.  My heart is being convicted of people I've failed to love, of passions I've selfishly allowed to grow cold, and gifts of I am failing to use to tell those around me of the Stories He is writing in my life.  Jesus is inspiring me to have faith, obey, and allow him to write God-sized Stories in my life that will bring him glory and save many.
Shalom.
By Sarah Draves
Audio from this day
God Sighting – Nik Spasovski
God Sighting – Sarah Draves & Tim Courtois
Reflections on Baptism Pt 1 – Kristin & Daniel Hamilton
Reflections on Baptism Pt 2 – Kristin & Daniel Hamilton
Today's Photos