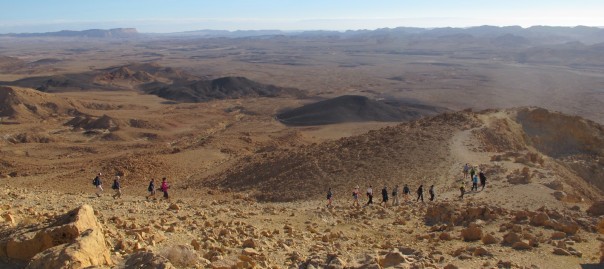 Day 3 – Depend on Him and Serve our Neighbor Dec 8
Last night we drove through the dark to arrive at our hotel, so this morning when we woke I was surprised to find that our hotel was surrounded by desert.  Not the sandy desert that I've seen so often in the movies, but a rocky and very hilly desert.  We spent the first 3 hours of our day trekking down the mountain through some incredible views…some incredible views that likely were seen for a portion of the 40 years that the Israelites wandered through the wilderness!  It was incredible to see the desolate yet majestic environment in which God taught them how to depend on Him, a good and gentle shepherd that they could rely on.  We also found ourselves pondering the parable Jesus spoke during the Sermon on the Mount of the wise builder who built His house on rock or the foolish builder who built on a foundation of sand.  As for much of this trip, we pondered the reality of the Israelites as we also looked at our own lives: Do we trust God enough to build our lives on foundations of rock or sand?  While more difficult to build on a rock, it will last longer that the house built on the easier surface of sand, but a surface that leaves us vulnerable to be swept away at any point.  We left the desert, but the images that we saw and the questions we were asked, I'm sure will continue to echo in our lives.
As though that wasn't enough for one day, we then went to the remnants of the fortified city of Arad.  Built by the Canaanites before Abraham ever set foot on the land, then rebuilt by King Hezekiah, it was an incredible environment that set the stage for Marty to introduce a topic entirely unexpected: hospitality.  You see, the remnants of this stronghold are less than a mile away from newly established Bedouin settlements.  Being a nomadic people for millennia, the Israeli government has enticed them, for good reasons, to build homes and establish cities for the first time in their history.  What marks the Bedouin even more than their nomadic roots is their pattern of hospitality.  You could enter the tent, and now house, of a Bedouin and receive tea, bread, and a bed for 3 days, no questions ask.  They offer sanctuary to those in need, and as we discussed their lives, we were impressed with the question of whether we, as believers, live out the command in Scripture to offer hospitality with the same open-handedness of the Bedouin.  Are we kind to strangers, or resentful of the burden they add to our lives?  To make this point even further, we had the privilege to experience their generosity and even joy when we, as strangers, were welcomed into the home of a woman named Hadija.  The children, the mothers, and the grandmother all received us gladly with delicious tea and generous portions of bread.  The poorest group of people in Israel welcomed guests from the wealthiest nation in the world.  What's more, their hospitality is more than an example, it's our heritage.  Abraham, Sarah, and Lot have clear patterns in their life that suggest that they were, in the least, similar to the Bedouin people.  Hospitality is our example, our command, and our heritage.
To end the day we floated in the Dead (or Salt) Sea.  It was a blast to laugh with friends as we were suspended in water that is made up of 30% salt (other oceans are only 3%).  It was a funny way to end a day that was marked not just by life-impacting moments, but also many points of joy.  Sue riding a donkey in the Bedouin village and nearly falling down.  Gaia, a convicted vegetarian, proudly holding up the jawbone of a donkey yelling, "Who wants to be Samson?"  Many memories with old and new friends as we experience a world that God used to teach the world about who He is.  An honor and a joy for all those who have made it possible through the prayers you have offered for us.  Please continue to pray…God has much more to do for us this week and we covet your petitions to the Sovereign King of the Universe who walked as a man in this place.
By Kevin Armstrong
Today's Photos