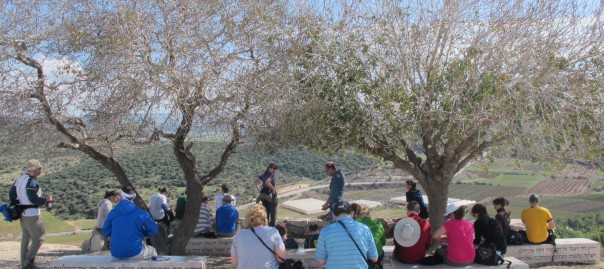 Day 2 – Knee Deep In The Bible Dec 7
It's about 6:30pm our time and we're all laughing & telling jokes, riding back on the bus from our first full day roaming through Israel. I can only speak for myself, but I'm feeling alive, thankful, and in-awe of our Incredible God. The rhythm of the day looked something like this: wake-up call at 6am, quick breakfast [the food is SO good], prayer together, on the road by 7am, and then travelling all throughout the Shephelah [sh-fay-la]. It's the middle portion of Israel. We would hike up to a site [Marty usually took us on the more adventurous & strenuous way] and then find a spot to sit for awhile. We'd soon find ourselves knee deep in the Bible, taking in the incredible scenery, and soaking up Marty's teaching.
We saw SO MUCH today! We went to Gezer, and learned a ton about what the ancient cities & city gates were like; to Azekah, the large hill overlooking where David fought Goliath; to Maresha, where we learned all about olive groves & olive presses; to Adullam, a cave that was similar to where David hid out from Saul– we even got to go caving; and finally, to Lachish, where we talked about Hezekiah. By far, the coolest thing we did today was to go to the only stream in the Azekah region: the stream that David must have gotten his 5 stones from that he used to slay Goliath. We each got to take a stone with us. It was incredible to get to stand where David must have stood as he was about to go fight the giant Philistine!
God's so clearly been blessing our trip and teaching us a ton so far. For a lot of us, because we slept so poorly on the plane, jet lag hasn't been much of a problem and all of our luggage made it safely! The land is so incredible here. Everywhere we go, I find myself in awe of the beauty around me. There are hardly any roads that go through the Shaphelah, and there's hardly any fencing or people around to "guard" all of the vineyards and olive groves. There seems to be way more integrity regarding the land here than back home. We've gotten to interact with a lot of the Israeli's and the trip hasn't felt "touristy" at all- which is so good for my soul. I'm so thankful to be here.
On a funny note: every time I see a little Jewish boy or girl here I walk up to them and start speaking to them in English, and shortly thereafter realize that we don't speak the same language, haha J. We'd love for you to pray for our continued unity with one another and capacity to hear from God, that we might love him & His Word more deeply.
By: Hannah Wilson
Today's Photos