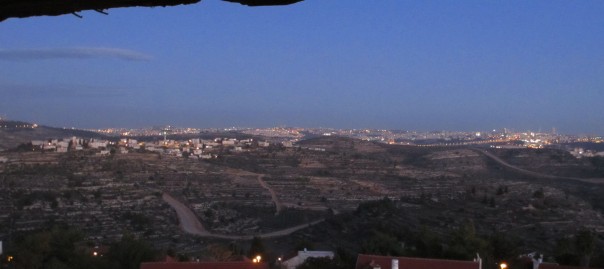 Day 1 – One of the Highest Points Dec 6
It was a long travel day for many in our group, but we arrived safely in Tel Aviv around 3:30pm local time.  It took us a while, but we all made our way to the bus, with every piece of luggage, something Marty called a "God Sighting".
We met our local guides, Nadiv and Egal and boarded our comfortable tour bus.  Leaving the coastal plain, we made the 30 minute drive to the kibbutz, Neve Ilan.  There we stopped to see Har Adar, a former military outpost.  This is one of the highest points of elevation in the Jerusalem hills.
At this spot, our teacher introduced us to the value and significance of olives and the olive tree to the land of Israel.  We saw "shoots" just off the base of the tree that will bear no fruit (olives), but when grafted to the tree will grow into strong branches and bear much fruit.
We climbed a narrow, circular stone stairway to get to the top of the lookout tour.  As the sun set, and the lights of Jerusalem began to twinkle in the distance, we shivered as we took in the beautiful, 360 degree view of this country we are here to explore in greater depth.
Our evening ended by settling into our hotel, having dinner, (where I believe most of our group avoided the "tongue", replacing it with a delicious choice from the dessert table) and an orientation meeting.  Now we are off to a good night sleep because we understand we have a very big day tomorrow.
Grateful for the prayers of all back home.
Lori Bartlett, Illinois
Today's Photos