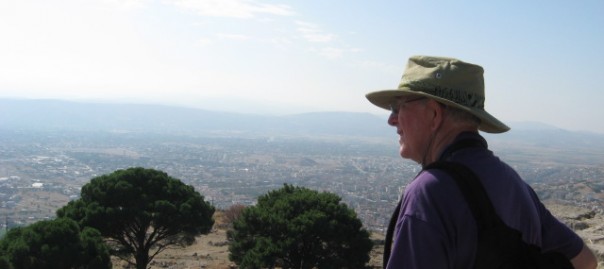 Day 8 – Uniquely Significant Oct 18
Today was the last day for site seeing in Turkey, and it was a great day. We went to the ancient city of Pergamum, which was destroyed, like the rest of the cities we've seen, by an earthquake. We saw some arches. And some tunnels. And some stuff that was once covered by a marble veneer. And we saw another theatre. And a few more temples to false gods.
Contrary to how redundant that makes it sound, these ruins were uniquely significant to us because of the Letter to the Assembly that was in Pergamum. This city was the center for the worship of many deities.  Dionysus, god of wine and theatre.  Demeter, goddess of grain.  Asclepius, god of healing. And Zeus, king of the gods.  As we looked at the letter to the believers there in Revelation, we saw that each of these false gods was alluded to and that Our God filled the true roles that these invented gods had tried to usurp. We were reminded to combat the "gods" of our culture, and to turn to The Lord and give Him the glory he deserves.
After Pergamum, we went to a Turkish carpet factory where we saw silk cocoons being spun into thread, and nomadic women weaving intricate rugs. We were served tea, and saw a presentation on the different rugs and how they are made. It was very culturally educational. (Geoff bought yet another rug. He's really into good carpet.)
The time we've spent in Turkey studying the places that the disciples of Yeshua traveled to has been extremely challenging to us all. We have repeatedly been challenged and exhorted to live the faith we profess, even in the face of extreme opposition. As we return home tomorrow, we pray that God gives us the strength to stand for what He has told us, and for the Truth about His Messiah.
Today's Photos