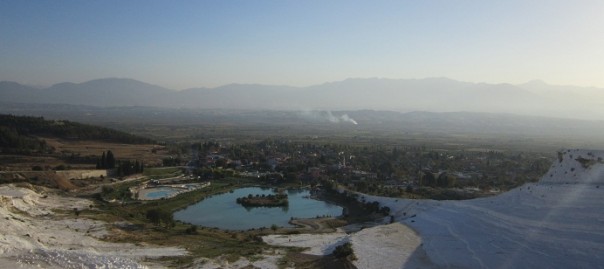 Day 6 – Colossae, Laodicea, and Hierapolis Oct 16
Our second day in what was once Asia Minor included stops at three sites: Colossae, Laodicea, and Hierapolis. The three cities were within just a few miles of each other, and they each show up in the Bible. And they each had unique attractions to them.
Colossae is, today, little more than an unexcavated tel which is grown up on the sides with pomegranate and fig trees and black raspberries, and grazed by sheep on the top. But it was the site of a substantial group of believers in the First Century. Paul wrote a letter to the community there, and the letter made it into the Bible. In the Revelation to John, a letter is given to the community of believers. Colossae was home to both Philemon, and Onesimus, his slave and brother in Messiah. Both the letter Paul wrote to Philemon and the letter to the community found in Revelation allude to the refreshingly cool mountain streams which watered the town.
The second site also had a letter in revelation addressed to the fellowship of believers there. The writer challenges them not to be lukewarm. What we learned is that this was in reference to the minerally hard, tepid water which was piped in and brought by aqueduct to the city which had no water source of its own. The city was very well off; a center for banking, home of a high quality black wool from local sheep, and manufacturing place for a type of eye salve. The people there didn't need anything, not even the emperor's money when it came to rebuilding the city after an earthquake. But their easy of living apparently lulled them into complacency. We were challenged not to be lukewarm, but to either be cold and refreshing like the water of Colossae, or hot and healing like the hotsprings up the road at Hierapolis, which was our next site.
Ancient Hierapolis is the site of one of the seven wonders of the natural world- Pamukkale. The name means "Cotton Castle" and when you see the huge white cliffs that look like a massive snow-fort, you can understand why. Over the millennia, the hot springs have deposited minerals and calcified the entire face of the cliffs. To this day, people come from all over the world to bathe in the springs for the physical benefit of the natural spa. What a contrast to the waters of Colossae and Laodicea.
Hierapolis was the place where Yeshua's disciple Philip was killed for his faith, according to tradition. Philip came from Bethsaida in Galilee into these cities, and he ended up losing his life for the message of the Messiah. We often forget that following God for our lifetime might just cut that lifetime short. We are not promised safety or wealth or ease. We are promised strength for today.
Today's Photos