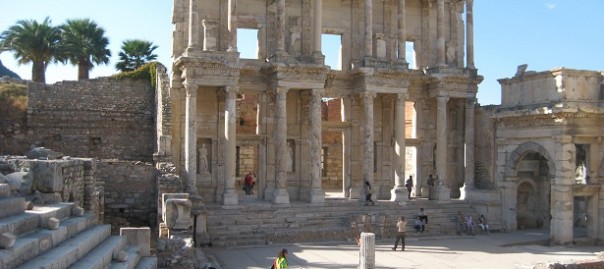 Day 5 – Colossal and Ostentatious Oct 16
Our first day in Turkey was a blast. We woke up and enjoyed an excellent breakfast outside on the balcony overlooking the Aegean Sea, and then drove to our first site. What a beautiful country this is, with the olive orchards and the mountains. Our Turkish guide, Hakhan, shared about the culture and economy of the country as we drove.
Once arriving in Miletos we walked through the ruins and learned about the archaeology there. We learned about the difference between Roman and Greek theatres, and we learned about the huge bath houses that were central in the social lives of people in the city.
As we walked and talked Bill called to our minds questions about the early followers of Yeshua who would have lived there, and about Paul and his time in the area. We talked about the radical shift it was for the young Jewish men to leave the Galilee and come here to teach in the synagogues. We certainly could understand the shock a little better after having come directly from Israel.
After lunch we spent the afternoon in Ephesus. The ruins there left us all in awe.  Colossal. Ostentatious. Between Bill and Hakhan we learned many, many details about the history and archaeology of the once-great city. Ephesus had been one of the largest cities in the ancient world, and before silting had filled in the harbor, one of the greatest port towns.
Bill challenged us from the letter to the assembly of Ephesus, from Revelation. Do not forget your First Love! Remember Sh'ma! Love your God. Love your brother. The pleasures of this world and this culture are not worth it.
When Paul was here he came to teach in the synagogue, sharing Messiah. Though the synagogue has not yet been found (they believe only 20 percent of excavations have been done so far), the legacy of those early followers of The Way have left their mark. Their building is lost, but their legacy is not- we spent the afternoon learning about them and from their teachers.
The day ended well, with Jeanna being given a pomegranate for being short, Ray and Joanna testing all of the deserts and making recommendations, Dave admitting to using cough syrup on his ice cream, and John claiming to love the sour fruits which make him pucker. Can't wait for tomorrow.
Today's Photos