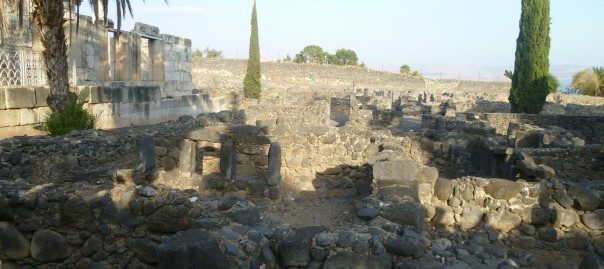 Day 2 – Following His Footsteps Oct 13
Our second day of touring brought us from the Sea of Galilee, in the morning, to Jerusalem, where we would spend the Sabbath. The Greek Scriptures mention Jesus making the same journey multiple times, and we appreciated getting to follow His footsteps in yet another way.
The first site of the day was the Decapolis city of Bet She'an, where we saw in a new light the contrast between the way the Children of Israel were commanded to live and the way the nations around them lived. Bill covered the history and significance of the city, from its Egyptian origins to being ruled by the Philistines and then later as a center for Greek Hellenism.
It was challenging for us to see the how the Israelites failed to fully drive out the peoples who lived in The Land like they had been commanded, and how that compromise was always "A thorn in their flesh" as Deuteronomy said it would be. The culture of the city was as sinful and decadent as it could be- what more could be expected from people who have made gods in their own image?
From there we went to Qumran, the site where the Dead Sea Scrolls were found. The community of men who lived there, the Essenes left a legacy of the Scriptures, which was the object that mattered most in their lives, and in their community. Our own commitment to God's Word was challenged there as we learned about the measures taken to preserve the Bible in its perfect original form.
We got to stop by the Dead Sea briefly on our way to the wilderness for the last faith lesson. The last lesson of the day was about the idea that God has called His people to be a desert people. He brought them into a Land flowing with milk and honey, but it was also a Land which "drinks water from heaven." God brought His People out of Egypt, married them at Sinai, and then He honeymooned with them for forty years in the wilderness. He brought them to a place where they had nothing, they couldn't depend on the Nile for irrigation. They had to depend on Him. He had to provide the water. He had to give the growth. God never promised life would be easy, but He did promise that it would bring trials.
Now we begin to see why the Rabbis have said that God takes His Bride into the desert to woo her. And we start to understand why they also said that in a single day He took us out of Egypt, but it took Him forty years to take Egypt out of us.