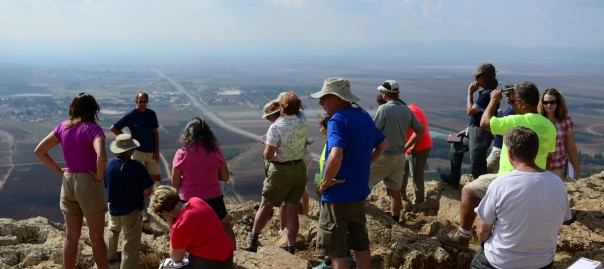 Day 9 – Past and Present Oct 9
Jerusalem – the city of David.  It's hard to believe we're here.  Our first full day was spent traveling the country side by bus and on foot.  It's amazing to see the past and present standing side by side in this ancient land.  We stood upon the remains of Gath – the town that Goliath made famous – and heard how God doesn't test us to break us, He tests us to make us.
Over the course of the day we talked about Herod the Great and how he used people to fuel his many achievements – they we disposable to him.  Jesus, by comparison, valued each one of us so much that he disposed of his own life to save ours.
After  hiking over  "tels" , and scrambling through caves (yikes!) and even a stop at a souvenir shop, at the end of the day a question keeps going through my mind.  Am I trusting God completely when I face a "wilderness"?  I'm working on it.
—Pete and Annette Wiersma
Today's Photos