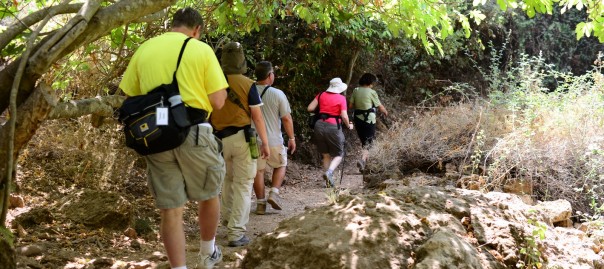 Day 7 – On Eagle's Wings Oct 7
"Another big day," Marty says as we get on the bus. But every day has been a big day. The bus took us near the borders of Syria and Jordan.  On the fence were signs of mine fields, still active, left by Syria in 1967. To our surprise, three Jeeps awaited and took us on secure trails between the mine fields. Our guide Ilan told us the history of the Golan Heights. His grandfather was a Holocaust survivor.
We then went to Mount Hermon, also known as "grandfather" or "great mountain," and it sits 9,000 feet above sea level. We visited the sanctuary of Pan where Jesus took the disciples on His way to Jerusalem His final time.  This is where Jesus told Peter, "Upon this rock I will build my church."  Some scholars also say this is the mountain of the transfiguration.  This is also where the tribe of Dan relocated, out of God's will. Amos talks about the coming judgment of the tribe of Dan.
We then visited Banaiss Falls. Later in summer, these falls are nonexistent, but with recent rainfall, they were spectacular.
After lunch, we headed for Gamla, home of the Griffon vulture.  It has a nine-foot wing span, and it soars in the cliffs effortlessly.  Our biblical translation of the eagle is actually the vulture.  Although sightings may be few and far between, during our lesson, six to eight adult Griffons soared above our heads.
We walked down to an overlook at the Fortress of Gamla, home of the Zealots, a Jewish sect.  Although time did not permit a visit to the actual site, it is the only synagogue in Israel that has not been reconstructed.  The Zealots here in Gamla jumped off the cliff edge when the Roman armies came with their final siege.
Overlooking Gamla, one of the couples on the trip, Curtis and Daneen from Canada, renewed their wedding vows in celebration of their 15th wedding anniversary.
The end to our day was an overwhelming swim at the Sea of Galilee as the sun set. On the way home, Craig and Marty tell us, "Tomorrow's gonna' be a big, big day."
—by Mike Gamble
Audio Clip One: Curtis and Deneen's Thoughts on Israel
Today's Photos