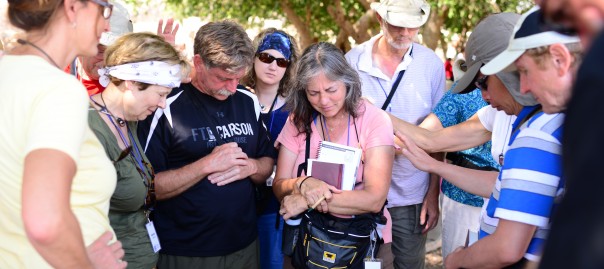 Day 6 – Commitment and Community Oct 7
We thank Harg Ang for taking all the photos and serving as Tech Master for our group's blog.  He's some kind of amazing!
Every day begins with an encouragement from Craig and Marty.  "Hurry to the bus," they sa , "today is a big day!"   This morning was no exception.  We were on the bus just after 7:00 am headed toward an unknown destination. (We rarely know where we are heading until we arrive as we are touring in ancient rabbinical style.  Disciples don't ask questions, they just trustingly follow their Rabbi. )  Our two words for the day were "Commitment" and "Community."
Today was filled with beautiful moments, and breath-taking locations.   We began our day with a boat ride across the Sea of Galilee.   A boat ride…across the Sea of Galilee! It was phenomenal!   We looked around in delight and savored the beauty of this part of Israel.   From the middle of the sea we had a view of the towns surrounding it, houses and buildings at sea level and up on the hills.   After seeing the view of the Galilee from Mount Arbel yesterday, we were able to easily recognize the different areas when Marty pointed them out to us: Tiberias, the Decapolis, Capernaum and Bethsaida.  It was amazing to look at Mount Arbel and see how high we climbed yesterday.  The boat stopped about halfway through our ride, which gave us a chance to read some passages, share some "God sightings" and reflect on the significant events that occurred there.   It was a beautiful day.  The sun shone brightly and it was a perfect morning to sail!  We climbed off the boat, and headed down to Tabgha, the area Jesus likely found Peter and Andrew casting their net into the sea, because it is the best area for fishing.  It has warm water and algae that attracts sardines.   Craig pointed out that, unlike the beautiful waterfront areas in the US and Canada, there are few hotel/resorts or sunbathers on the shore, or boats on water, because Jews largely dislike the water. The area is very natural.  Craig asked us to "find a soft rock and have a seat."  We sat down, and imagined Jesus walking down the shore and calling Andrew and Peter to follow Him. We talked about Jesus choosing men who were passionate and committed. Craig gave us many things to think about, and then lead us up a short distance to the Mount of Beatitudes.
This location was a definite highlight for many of us.  The Mount is like a small foothill and looks out towards the Sea.  It is uninhabited and nothing but long grass grows there.  Jesus' voice would have carried to the crowd as they sat and listened to Him teach them how to rightly follow the law.  What a stunning location!  We sat down under the shade of a tree, felt the cool sea breeze,  and took in the view as we reflected on Jesus' words, "Blessed are …".   Craig and Marty delved deeply into the Word and offered us significant insights.  Being there and looking out towards the Decapolis gave some understanding of Jesus' story of the prodigal son and of the accounts of Jesus feeding the multitudes.  I believe we all have new pictures in our minds that will come up in our minds whenever we think of those passages.  All in all, an experience none of us will forget.
From there we moved onto another gorgeous location, Capernaum.  We were encouraged to stick together as it was likely to be busy.  It was, but we were able to huddle together on a stone bench, under a beautiful tree in front of the tell and listen to Craig, and then Marty explain the significance of the ancient buildings we were looking at.  In the background again, was the Sea of Galilee.  The beauty of the scene took my breath away.  We read passages that record Jesus' words in the synagogue in Capernaum.  We read about Him touching Peter's mother-in-law and healing her, and then we walked into the synagogue, and over to the house.  It's a memory will stay with me forever.  I could have stayed all day!
There was no time to linger, though, as we had other locations still to visit.  We headed to another town nearby, Chorazin, and learned about "insula" -  community.  Jesus chose his disciples,  and they lived together and built community.  Craig noted how we all left our communities to take this trip, but after just a few days together we are building community together.  A few people shared some deep and personal things and we prayed together. ( One of us shared later at supper that this was the highlight of her day) .  We looked through the ruins and saw how rooms were built around a communal courtyard.  Marty explained what the different rooms were, and then lead us to the synagogue.  We spent a great deal of time learning of the great respect Jews have for the Word of God. Marty also explained, in detail, the process involved in a man choosing a bride.  The steps include negotiating a bride price with her father, offering her a glass of wine representing his care, protection and provision, and, after she accepts by drinking the wine, leaving to build a room onto his father's house. Once his father approved of his handy work, the young man would blow the shofar, and so announce to his bride that he was coming for her.  We learned about the marriage ceremony, and the celebration.  We began to understand the significance of the Last Supper, and of communion as we learned the context of Jewish culture.  We asked questions, reflected and discussed.  Another highly memorable event!
It was a day filled with deep and stirring events, but it wasn't over yet.  We made one last stop.             Peace Vista!  It is a lookout point with a spectacular view.  You can see the entire Sea of Galilee and the mountains in the background.  We were even able to identify Mount Arbel off in the distance.  Craig talked about the meaning of the word "Shalom" to the Jewish people.  Wholeness, congruency, rest, the way it "ought" to be.  He noted that it is one thing to have this peace in our own heart, and another to have it in a community.  We spread out and reflected on the importance of community, and spent some time journaling while watching the sun set over the Sea of Galilee.  I need to tell you friends, if it is in your heart to come to Israel, do whatever you can to come!  It is so worth it!
—Deneen Holder
Audio Clip One: Thoughts of Israel from Marsha
Audio Clip Two: Dean & Jan
Today's Photos