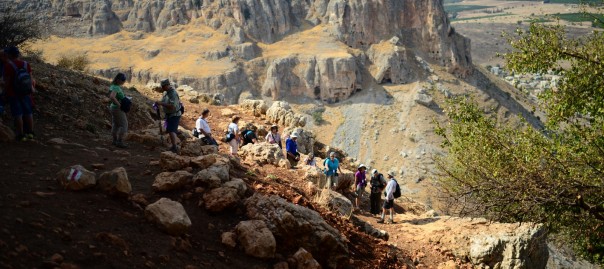 Day 5 – Hand in Hand Oct 5
This morning, we met at the Sea of Galilee for a devotion by Marty then we headed to the  Dead Sea area, drove through the city of Tiberias, then through the Jordan Valley, and up to Sea of Galilee region and landed at the base of Mr. Arbel.
Mt Arbel is the mountain range where Jesus climbed to pray all night for his disciples.  We, too, made our own pilgrimage up Mt. Arbel, often times with people scaling walls hand-n-hand, helping one another at every turn.   This was an arduous but exhilarating walk that tested our personal limits, yet many who struggled said they felt accomplished for having completed this mission of what we now call our "pilgrimage" instead of our "tour."
At Mt. Arbel, Craig talked about how our foundation of faith rests on prayer.  Harg, a pastor from the Philippines, shared his personal testimony about his grandfather, who he considers he greatest influence.  Because of his grandfather's steadfast prayers, Harg and all of his siblings are all somehow linked to ministry.  Harg's story reminded us all of the importance of the influence we have on others through prayer and by our life example, and there is no greater influence than what we can have on our children and their children's lives. We left Mt. Arbel sore, tired and completely drained, but if you ask anyone if they enjoyed Arbel, all of would say "Yes!" But, boy, were glad it was over!
We then drove to Bethsaida, a small fishing town where Jesus selected five of His apostles, Peter, John, James, Andrew and Phillip. These would have been teens to young adults, unlike we Westerners often envision. They were young men who had failed the test of the rabbi to actually become a rabbi, and instead, they established a trade, and  in the case of these guys, fishermen.
Craig focused in on Andrew (means "manly" ), relaying how every time Andrew is mentioned, he's always bringing people to Jesus. When we first meet Andrew in the gospels, he rushes to go get Peter, his brother, to see Jesus. He brought the little boy with five loaves and two fish to see Jesus, and Andrew also brought Greeks to Jesus at the temple while He was teaching at the Passover.  After Jesus' death, Andrew spread the gospel and helped developed churches in Scotland and Russia. Andrew inspires us to be that kind of Christian that if people talk about us, they'd say, "She (or he") is always bringing people to Jesus."
Marty then talked about discipleship and what that would have looked like for a young man to drop his net, leave his life and follow his rabbi. In this ancient culture, that would have meant Jesus' disciples would have taken off for years as Jesus traveled about teaching.  They would have wanted to learn everything about their rabbit to look just like Him. Marty said that one of our Jewish guides for GTI tours has been witnessing these Jesus tours for a decade, and one day Marty asked him, "Friend, you've heard the lessons for years, why don't you believe in Jesus?" The guide's response was disturbing:  "I see many, many Christians that come through Israel, and I watch them and talk to them, and the main problem that I and other Jews have is that they don't look like their rabbi. We like Jesus, but His followers are not generally like Him."  Whew….WE are the biggest stumbling block to Jews finding Jesus because we don't look like true disciples of His.
Marty then challenged us to consider our "nets" back home. What have we put in our "nets" that keep us from being an effective, intentional disciple for Jesus? Our homes, cars, kids' activities, grandkids, our jobs that afford us the lifestyle to which we are chained? Although our family can be ministries in themselves, we design our lives in a way that either leaves room to be a true disciple or not.
I asked, "What does it look like in our day in time, in America, to drop our nets and follow Jesus?" One of the Philippine pastors, Jun , then shared his personal story. He was an architect in the midst of a time when buildings were booming in the Philippines.  He and his wife had been volunteering to help the youths at their local church, and he realized that so many of the teens needed special attention, someone to mentor them and teach them to read and love God's word.  He had never been mentored when he was a young Christian, and he had gone through his first 40 years of life as a lukewarm Christian. After much prayer, he and his wife decided that he'd "drop his net" and become the youth pastor for his church.  He'd given up his life of prosperity to be a disciple to youths. He shared a story of a guy who showed up at their church to hear their worship music, and he eventually became a Christian. The other gang members were upset, so the new Christian and a few others went to talk to the gang members, and almost all the gang members have now committed their lives to Christ. Goes to show….when we drop our nets and follow Jesus, we begin to really make disciples of all nations.
Please continue to keep us in your prayers. We feel your prayers and have been protected and blessed by them.
–Gaynor Lubojasky
Today's Photos