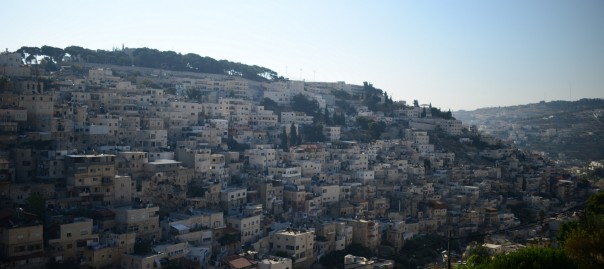 Day 10 – Welcome to Jerusalem Oct 11
Day 10 of our amazing adventure in Israel began with a walk through the Western Wall plaza to gain a view of the Mount of Olives.  According to our trusted and knowledgeable guide, Marty O'Connor, a great deal of money is being pumped into Jerusalem from Jews living outside of the country to buy back sections of the city.  The Muslim community controls the majority of the city, a fact known by all but not discussed openly.
II Chron. 32:1-8, a passage about King Hezekiah, was read.  We learned that Hezekiah prayed with the prophet Isaiah and consulted his army before making strategic decisions about defending the city.  The lesson we focused on was the importance of having a prayer partner and a trusted friend who will give you wise counsel and not just the answer you are looking for.  The question I asked myself and everybody should ask is: "Who is my Isaiah?"
We met Ishmael, a longtime friend and worker on the archeology dig going on in the city.  He explained how King Herod constructed even the tiniest detail to include beauty, consider the "drain assistant, or man hole for sewage," a lovely marble floral design.  With water shoes on and pants rolled up, into Hezekiah's Tunnel we went.  This is all part of the Temple Mount excavation project.  Through the tunnel my flashlight continuously flickered, leaving me in total darkness which was scary at times.  Water flowed quickly and coolly over my feet and legs.  I liken this to trying to live in darkness without the light of the Lord.  When my flashlight came back on, the path was not fearful.
The next lesson was led by Craig Clapper, and Curtis Holder read the scripture, John 9:1-41. This passage described a man who was blind since birth and God used his deformity for His glory.  Jesus put spit and mud on the man's eyes.  The man knew that even the saliva of the Messiah will heal according to the beliefs of the time.  Jesus healed the blind man in a way we could never imagine.  Let us be careful not to box in Christ, limiting Him to what we think He can do.  Repeatedly, Jesus tells us He is the Messiah with pictures instead of words.
Now we are sitting on top of the Mount of Olives, which offers an incredible view of the landscape.  Two scriptures that were read were Acts 1:7-12 that describes how Jesus ascended into heaven at the Mount of Olives and Zech. 14:1-9 that states Jesus will return to the Mount of Olives.  It's amazing to sit in this holy place reading the scriptures of what has happened and what will happen.  After leaving this area, we walked down the very road when Jesus entered into the city.  Along the way we saw a Jewish graveyard that contains gravesites that looked different from those in the United States.  The monument is rectangular in shape, shorter than the actual body, and has small stones placed upon its top.  This is because real estate is so expensive in this part of the world that the body is placed in a fetal position, and the small stones are placed by loved ones who honor the anniversary of the deceased ones death (instead of placing flowers as we do in our land).  Oscar Schindler's grave, the man who saved many Jews during World War II, has many, many, many stones atop his tomb placed by survivors and survivors' families.
On to the Garden of Gethsemane, in reality, was not a garden but an olive grove.  Mark 14:32-52 was read describing Jesus and the disciples as He prayed to have the cup pass from Him.  Pastor Clapper described this as Jesus being crushed as an olive is crushed in the olive press.  Marty challenged us with the question: "Why does He say cup?"   Jesus had just come from the Last Supper or Passover dinner.   There are four cups used at the Passover dinner.  He did not drink from one.  The question is: "Which one did He not drink from and why?"  In a true rabbinical fashion, Marty is answering our question with a question.  This helps the student learn and make it his own instead of being spoon fed.  Answer unknown, to be continued.
Next, we learned about the "gan," which is an inheritance garden.  From this lesson I learned the importance of taking care of the inheritance I received and will pass along to my descendants.  There is a domino effect if my neighbor neglects his duty as it negatively affects my gan.  Scriptures providing an example of this were Ps. 16:5-6, Prov. 13:22, and Isa. 58:11-12.  A good 21st century example would be if you don't mow your grass it brings down the property value of your neighbor.  The gan garden contains stone walls and varied fruits and vegetables.
Bethlehem, which means "house of bread," is the birthplace of Jesus.  We visited the Church of the Nativity, believed to be built over the sight of Christ's birth.  Our guide shared that the population of Bethlehem is now 70% Muslim and 30% Jewish, a statistic that startled me.
While in Bethlehem our group had the pleasure of shopping at Johnny's Souvenir Shop, an enthusiastic follower of Jesus Christ.  We were all glad to support Johnny and Marty even said, "When in doubt, buy both!"  I thought that was good advice and heeded it.  Johnny explained to us that the value of articles made from olive wood are based on the artist who carved it and the age of the wood as it must be dried for at least six years before it can be carved.  Wood that is dried for longer periods of time increases in value.  At Johnny's I purchased a T-shirt and invited everyone on the journey to autograph it.  This was presented to Mike Gamble at the end of the day for his good attitude on living 10 days out of a small carry-on bag.  Today, Mike received word via Walid, our Palestinian guide, that the bag has been discovered, and Mike hoped to have it soon.
Herodium.  I was privileged to read Matthew chapter 2 describing the story of Jesus' birth and Herod's quest to kill Him as an infant.  Craig led us through a comparison of the two "Kings of the Jews."  In his lifetime, Herod took a rolling hill and turned it into a mountain.  We asked the question: "Why here and why so tall?"  Herod wanted to overshadow the holy text, knowing that Bethlehem was where the Messiah was to be born.  Herodium looks over the town of Bethlehem.  One of the many benefits of this trip for me is to put the Bible stories I have always learned into physical context.  Craig pointed out that when Herod killed all the baby boys less than two years of age, this would have been only 20-25 children.  I always thought it would have been thousands.  To put it in modern terms, this wouldn't even have made the evening news seeing that Herod was known for doing evil deeds and this was not an uncommon act for him.
At the end of this lesson, we all gathered around to present mighty Mike with his one-of-a-kind award for being a good sport while wearing the same two shirts 10 days in a row.  We look forward to tomorrow's BIG, BIG day, our last day in the Holy Lands.
—Julie Logue
Audio from this day
Audio Clip One – Julie
Audio Clip Two – Carlos
Today's Photos