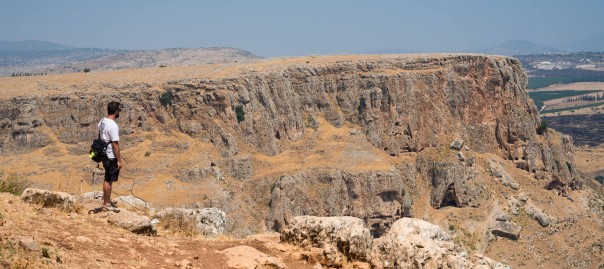 Day 7 – Mercy, Not Sacrifice Jun 29
To start the morning we had a challenging hike up Mt Arbel. This is where Jesus went up the mountain to pray. The trail markings indicated the trail we hiked was a ancient trail. From the top we could see the triangle of city's (Capernaum, Chorazin and Bethsaida). Then a great hike scaling down "the ladder"
Our Rabbi then took us to a place on the Sea of Galilee which is largest body of fresh water in the middle east. This is where Jesus picked 4-5 disciples from this fishing community. While water represented chaos to the Jews, the fisherman were the ones who braved the abyss. This is why Jesus chose them. This is also where Jesus commissioned and restored Peter (John 21:1 and John 21:15)
The next 3 stops are the Triangle of City's all part of the Bible belt.
Chorazin, we learned of the Insula "House of the Father" where the entire extended family lived. The center piece being the courtyard. This family was defined by God, their father and the land. (John 14:1-4)
Capernaum, Jesus taught and lived here. The verse we learned here is "I desire mercy not sacrifice and acknowledge of God not burnt offerings". Also to hide Gods word in your heart (memorize it).(Hosea 6:6)
Bethsaida, Jesus taught of his Yoke his being light and non burdensome. Jesus also taught the Shema (Deuteronomy 6:4-9) adding (Leviticus 19:18), love your neighbor as yourself. Dan/mike and Julie Sikma presented Gods word speaking it from their hearts and blessing us with the sermon on the mount.
To wrap up the evening we all went to celebrate Shabbat in EinGev Kibbutz. Shabbat is the Jewish celebration of the Sabbath it begins on Friday evening and ends Saturday evening. Shabbat Sholom (peaceful Sabbath) is spoken to each other from 7:22 pm Friday and Saturday evening.
Shabbat Sholom everyone, Barry Goltz
Today's Photos