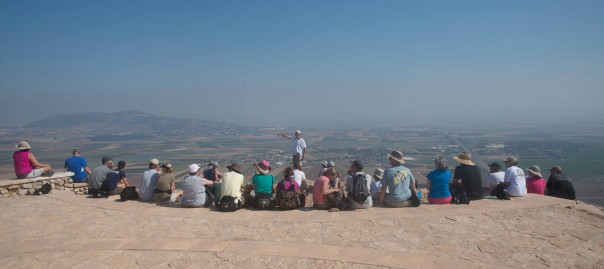 Day 6 – Opened Eyes Jun 28
Dear friends:
This morning we opened our eyes by the Mediterranean, a steamy misty morning so different from our days in the deserts. We travelled up the coast through Haifa but before we got to Caesarea we had one more tough walk, well, maybe one more! The mountain's name means Vineyard of the Lord, Mount Carmel.
This walk, then climb was about 1700 vertical foot climb over 2 1/2 miles. At times intense and at other times easy up hill. We stopped by an olive grove where there was a completely gray stump but out of the top sprouted a branch of new growth.
Then to the top, rocks and shrubs and then Rod's teaching on Elijah. Find it!
On to Caesarea. Oh Herod, how you could build! We stood at the place where Paul made his defense to Felix, Festus, and King Agrippa. Beautiful, beautiful place.
Then within an hour or so we were in Nazareth on the Precipice Mount. Jesus could stand and see so many of the places of Elijah and Elisha's work. According to tradition this is where the people of Nazareth rejected him.
In the bus, within moments we are in Cana. Then out the windows Mount Gilboa, and then here we are at the Sea of Galilee. Open your Bibles, turn to the back, look on the east side of the sea and, look! Can you see us? We are in a kibbutz near the Golan Heights near the border of Syria. Lovely lake.
Just love this land of Jesus!
Sincerely,
Faith Van Enk
Today's Photos