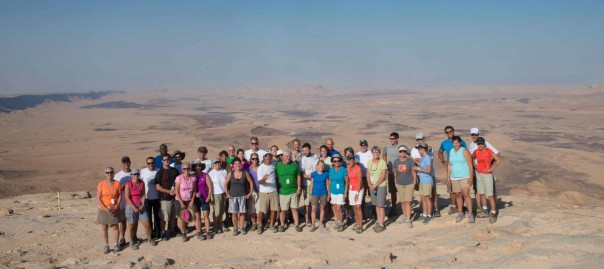 Day 3 – Masada Jun 27
Our main accomplishment today was scaling Masada. This desert fortress is not only an architectural marvel from the ancient world, but it is also the second largest (after Jerusalem) tourist destination point in Israel. Rest assured, gentle readers, that our group had more than tourist aspirations for our day! As we approached Masada, we saw almost one-hundred school children descending the "snake path" which leads to the top. I was sure that if these kids could make this climb, than it would not be a problem for our group. I was wrong; the kids never made the climb, and scaling Masada was one of the most physically challenging things we have ever done (Erin Weatherhead says that giving birth was harder). Our group recited the first verses of Psalm 91 when we could catch our breath–look it up and join our team in memorizing it!
After Masada, our group visited sites in the "zim desert," which saw much of the wandering of the post-exodus Israelites. It was hot, extremely warm, and had a high temperature. It certainly gave our group a more sympathetic view to Israel's complaining. But it also challenged our faith; what are we trusting God with?
Continue to pray for the health of our team. Almost everyone is doing quite well, and even surprised at what we can handle, but a couple members of our team are fighting some stomach issues. Not fun–especially in the desert!
Walking!
Matthew Westerholm
Today's Photos