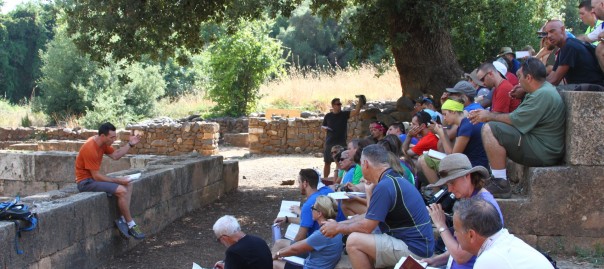 Day 6 – Perspective Jun 25
Traveling to the Golan Heights this afternoon, we had the opportunity of experiencing strategic hills that have changed control with Syria over several generations. Even among the decommissioned equipment and bunkers, there was something much more powerful that came from the hill tops. Ronan, our tour guide, spoke from the heart with a passion for his country that could not be rivaled.
Ronan spoke on Israeli political history, current affairs, and where the future is headed for their country. Underlining his speech was a tone of confidence, pride, and security in knowing the love and protection of God. Ronan explained how its enemies internal strife and conflicts they bring to Israel's borders cannot withstand a people devoted to God.
Even in writing this, I cannot do his passion for his land justice. It made me significantly think about the cost of freedom, in our country and his. It moved me in a way to change the way I pray for personal issues and remember that God listens to prayers for entire nations.
Riding a boat across the Sea of Galilee put many things into perspective. When we think about Jesus walking on water, most of us think of it being a few steps. Fishermen went out to sea to fish, which means that Jesus had to walk all the way out to their boat. Floating in the middle of the Sea we could see nothing on the shoreline. To know that from the same point in the Sea God knew where each person was is amazing.
Along with reflection time on the boat, we also had a dance party. Our tour guide Ronan taught us how to dance and sing. It was great to see smiles and laughter across the boat.
After our boat ride across the Sea we went to Quarizin. There we had the opportunity to see a 3rd or 4th century replica of a 1st century Israeli house. I know how much I like my space at home. Israeli houses of that time only have two maybe three rooms, one of which was the kitchen. Families back then did not know much about privacy or personal space. The Israelis welcomed others into their homes on a regular basis and were a great example of how to live in community. The question that hit home was when Brad asked what lifestyle we thought was better, the first century Israeli or our modern lifestyle? I think we have so much to learn from other cultures and time periods. At the same time we need to use the talents the God has given us to further his kingdom.
Audio from this day
Brad teaching at Katzrin about 1 st century life
Rich teaching at Banias
Today's Photos