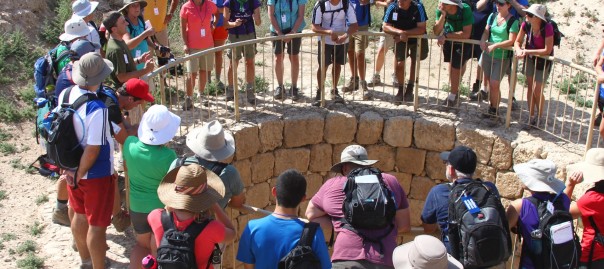 Day 2 – From Caves to Vineyards Jun 21
I was really in awe of the history of the fortified gateway cities that we saw today. We got a better glimpse of the complexities of living in the ancient cities. We got to see why location, trade routes, water access, etc. were so important back in the times of these civilizations, and today as well. The hike to Azekah was very tough. It made us nervous for the hikes ahead! We learned about David and Goliath once we reached the top. We learned about the difference between real courage from God, and courage that comes from ourselves and other worldly avenues. We got to go down to the riverbed where David probably chose his 5 smooth stones to kill Goliath. Don't worry, families, we will bring some home as souvenirs.  We crawled thru the Cave of Adullam, which is one similar to the caves David hid from Saul in. He wrote a couple of Psalms while in hiding. We read one of them while in one of the larger parts of the cave. I got scared only at the point that I realized I needed to crawl on my tummy! I am glad that I finished. Tel Lachish was vibrant with vineyards and beautiful grapes. It created the perfect time to talk about and reflect on the passage in John 15 about Jesus as the true vine, and God the Father as the vinedresser. We ended the day at Tel Arad. It was the largest of the cities we've been to. It was truly incredible. I was so impressed with how vast the walls were. We got to see an Israelite sanctuary, which put more into context what we had been learning in the Residency Program over the last 9 months.Today (Wednesday) has been amazing (and exhausting!). We are still overwhelmed with the fact that we're here. Thanks for reading.
—Jamie Hogue
Our Thursday has been such a fantastic mix of modern and ancient history combined with deeply reflective moments that make the Bible very real and present in our lives. We started the day in Beth Shemesh where Samson was from. The most powerful thing for me there was my experience standing in the cistern underground where we read about the prophet Jeremiah pleading with his people to turn to God and he compares them to broken cisterns that have been chosen over the living waters of God. As I stood in this giant underground cavern that could hold 54,000 gallons of water I reflected on what time had done to the walls of this place and how water would have been ruined by the limestone behind the crumbling plaster. Rich asked us to reflect on how in our own lives we choose this stale murky water over the living and fresh waters of God. Through the day we climbed the rest of the gate cities that were there to protect the way to Jerusalem from invaders which were Lachish, and Azekah. Azekah was definitely the hardest climb of the day physically but we all toughed it out and saw it as a practice for the bigger hikes.
The caves of Adullum were intense. I actually didn't go in because as I quickly found out I am a claustrophobic person. Everyone that did it loved it though and were glad they experienced it. I do have to give a huge shout out to middle eastern cuisine. I had no idea what to expect but I definitely wasn't expecting full on feasts of deliciousness at every meal! It has been fantastic and I am thankful that GTI tours has hooked us up with great grub. We finished up the day with the largest city we have been to so far Arad., and and some floating in Dead Sea! As I wrap up this post I want to mention something that has caused me to reflect a lot today as we travel. Even now we are driving and I can see low lying valleys where the people have planted vineyards and are tending to them. Often God uses the lowest places in our lives to turn the soil of our souls and to fertilize our hearts to grow fruit for His glory. As I looked into the caves of Adullum I pictured David the rightful King of Israel scooting through them like a criminal, but it is in these places that God set the foundation for him as a God fearing man that would soon rule an entire nation of people. Tough situations are opportunities to grow and lean on your Maker. These and many more lessons are the things that will stick with me forever after this trip.
—Jordan Hogue
Audio from this day
Sam teaching at Tel Arad
Today's Photos