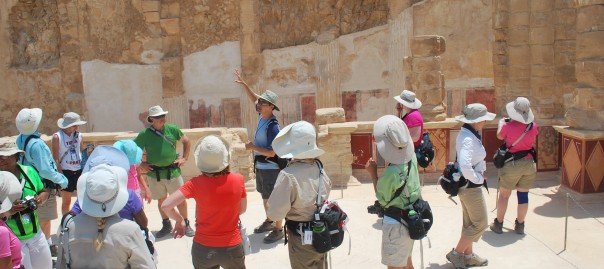 Day 5 – No Hesitation Jun 15
We started today with our devotion on Psalm 31 that David chose the Lord as his the rock of refuge and his strong fortress.  Our God is the God of protection, unmoving, consistent.  Our leader, Pastor Danielle charged us with a question:  When God asks me to push the rock every day, am I going to push it every day without hesitation? Even if it never moves?  After all, God did not ask us to move the rock, just push it.  The act of pushing is the way that God is using to build our faith, our character.  What "rock" (task) has God asked me to push (be diligent at) that I stop pushing because it did not "move"  (produce results).
The first site we visited was Tel Arad which was originally a Canaanite settlement, later taken over by the Israelites.  There was a temple there modeled after Solomon's temple.   In the Holy of Holies, there were two standing stones and two incense alters. One was for YHWH and the other was for a Canaanite god.  This was one of the high places order destroyed by King Hezekiah.  But the stones and altars were not destroyed.  Instead there were carefully hidden and buried.  Because the people were not willing to totally give up their false idols.  What false idols have I hidden away rather than totally destroyed?
Then we went on to Masada. We hiked up the siege ramp route.  The day was a relatively  "cool" 106 F.  Pastor Kevin gave us a teaching why Herod built it, the Jewish Revolt, the occupation of Masada by the Jewish Zealots, the siege by the Romans and the suicide of the Zealots.  We also heard about the discovery of old scrolls of part of Ezekiel that were little changed from what we have today in our Bible.  Shows how diligent the old scribes were in preserving God's word! I wish I was that diligent.  We saw palaces, storerooms, terraces, water systems, baths and much more.  Masada was built by a King who was only interested in displaying his own power and status.  And yet God used this to provide a refuge for His people a hundred years later that resulted in a story of faith and sacrifice that inspires the Jewish people (and us) to this day.
We ended the day by floating in the Salt Sea (aka Dead Sea).  Way cool!
SHABBAT SHALOM
Ray & Winnie Fong
Today's Photos