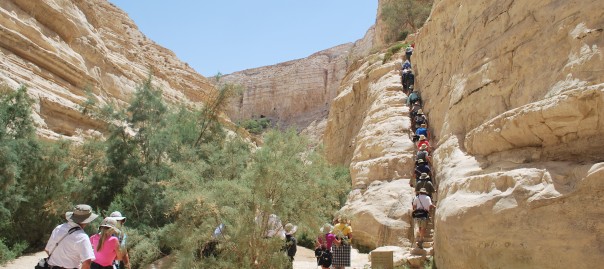 Day 3 – Let Your Hands Not be Idle (Ecc 10:18) Jun 13
Let Your Hands Not be Idle  (Ecc 10:18)
It may seem completely ridiculous to be inspired by a U2 song, but I *love* their song "Beautiful Day". To me it's a song of hope, and of seeing the world with eyes not my own.  There's a part about "seeing the world in green and blue", and one line mentions seeing the Bedouin fires at night.  There's something both romantic and haunting brought to mind, perhaps images constructed from movies and tv, about a people who are both in time and, in a sense, timeless.
Today we had the rare opportunity to visit an educational center nestled in a Bedouin community in the Negev. Offering us sweet hot tea (yes, hot, even in the sweltering 80+F weather!) and cushioned seats, we were greeted with the same hospitality that those before them have offered, perhaps going all the way back to Abraham.  A few women in long coats or robes demonstrated how they would spin, dye, and weave the yarn. The coarse yarn made from either the wool of sheep or of camel were turned in carpets, pillows, and even the covering of the tent in which we sat. Different patterns, bright, dark and neutral colors, balls and skeins of yarn dotted the walls, bins, and floors of this site. We didn't see Bedouin fires at night, but we saw traditional skills of yarn making and carpet weaving practiced by the modern day Bedouin.
Next we hiked in the Desert of Zin, where we were constantly told to "respect the desert." In such severe climate people need to depend on and help each other—it's the only way to survive.  The hospitality extended by Bedouins is an example of that; if a stranger traveled through the desert, the food and shelter given could make the difference between the traveler surviving the trip or not.  It's interesting to think about how in our western society we've become less and less connected to each other in meaningful ways. Sure, some people have lots of friends on Facebook, but that doesn't mean that when they post on their wall that they have a flat tire that anyone is going to actually come to help change it.  This area is dry, hot, with rough terrain. Who would want to live here?
Yet it's discouraging (and encouraging) to learn today that 70% of the land God promised to the Israelites consisted of desert. Why would a good, benevolent God promise land that is so dangerous? Why not a land that is lush and green?
So that we would run to God.
So that we would depend on and entrust all to God.
So that we would depend on and help each other.
It's becoming clearer and clearer to me that God intends for me to dwell intimately in community, not just as an observer or spectator, but as one who practices and extends hospitality grace to those around her.  And as a special treat, God blessed me with a long overdue (or just in time, depending on your point of view) conversation with Pastor Danielle that helped bring me closer to clarity on a question about God's character and intent for people, being an immediate example of one who practices hospitality despite needing to get up early the next day, despite needing time to prep, and despite needing to somehow fit in sleep.
It's the age old and modern lesson in loving God, and loving your neighbor as yourself, extending hospitality and love, and avoiding idleness. And I am thankful to God that He is slowly changing my heart and helping me begin to feel in my heart what my head already knows.
Contributed by Rebecca
Today's Photos