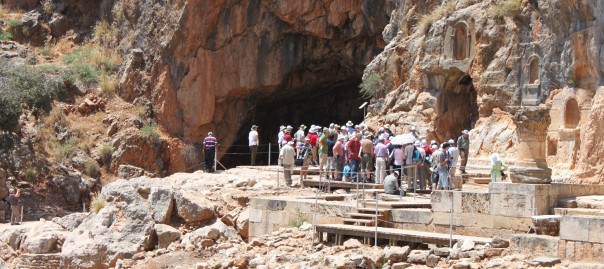 Day 3 – Shalom from Galilee Jun 13
By Matt Lantz
Greetings from Galilee! We have just finished up a gorgeous day around the north of Israel. Today we focused our attention on sharing our story as a means of being a part of God's ever-increasing and conquering Kingdom.
We began the morning in the Decapolis city of Susita/Hippos. We focused on the story of the demon possessed man, Legion, and how his testimony after his encounter with Jesus was part of a conquering influence for the Kingdom in that area. We saw how just a few hundred years later the entire area was Christianized. We need to remember tell both our story and the story of Jesus.
Then we made our way north to the ancient city of Gamla. Home of the Zealots in the first century, Wayne did a splendid job of showing us how Christians can influence their cultures either by exclusivity or inclusivity. The zealots chose to be exclusive, but ineffective. Wayne showed us how even Moses was inclusive throughout his conquest of the eastern side of the Jordan. He did a great job helping us consider how we are choosing to engage our culture.
After Gamla, we made a long drive up north to the famous city of Caesarea Philippi. Wayne reminded us of the exchange that Jesus and Peter had at that site where Peter confessed: "You are the Christ, the Son of the Living God." Wayne challenged us to make sure we are doing the hard work of rightly interpreting the Word of God so that we can continue to be a part of His church that will never be overcome – even by the gates of Hades.
We finished up our day at the city of Dan. After learning about the magnificent city gate and the steele that was found there, Wayne helped us focus on the importance of obedience to the Word as we considered the sinful idolatry of Jereboam. It is important for us to remember that if we are not about the business of bringing every thought captive, they will often captivate us & lead us to do things that we never would have planned to do.
We're closing our day with a swim in the Sea of Galilee! Not bad, huh? :)
As you can see from the pictures below, we were in some beautiful country today. It was pretty warm, but the sun couldn't steal our wonder and appreciation for the things that our eyes have seen and our ears have heard.
By God's grace, we all remain in good health and good spirits. Thank you for your prayers and please keep them coming! If you would like to say hello to anyone on the trip, please feel free to leave comments below and we'll make sure they hear from you
Shalom,
Matt
Audio from this day
Caesarea Philippi – Wayne
Susita Matt
Today's Photos