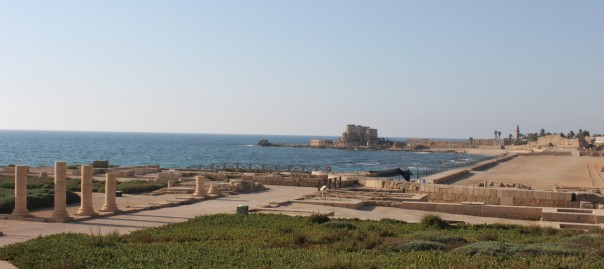 Day 1 – "Conquered Conquerors" Jun 11
By Matt Lantz
What an amazing privilege it is for us to be in Israel! It's incredible to set our toes in the same places that we have only before had the chance to imagine. Although it is a humbling realization, there is little that can quiet our hearts now that we are finally here. It's a sight  to behold!
We had a great "day" of travel overseas. After we left Philly, we had a pleasant 10 hour flight over to Tel Aviv. Upon arrival, we met our Israeli guide, Ronen, and our bus driver, Meir (pronounced like mayor). After a warm reception by our new Israeli friends, we promptly got on the bus and made our way to Caesarea.
At Caesarea, Wayne made sure we understood the significance of the famous port city built by Herod and how it impacted the world of Jesus & the Apostles. More importantly, we saw our theme of our trip emerge here: Romans 8:37-39. We began to think about the reality that God is a conquering God. He has conquered the kingdoms of this world (in part) and will soon do so in full. He has also conquered our hearts, vanquishing them and leaving them in ruins so that His will might be done in our lives. In much the same way, the kings and walls of Caesarea – though once mighty in their own eyes – had to choose between destruction and submission.
Tonight, we are staying in Caesarea and tomorrow we will make our way north and east into the Jezreel Valley! Thanks for your prayers . Enjoy the few pictures and audio we have from our day today.
Shalom,
Matt
Audio from this day
Caesarea Clip 1 – Wayne B.
Caesarea Clip 2
Caesarea Clip 3 – Wayne B.
Today's Photos