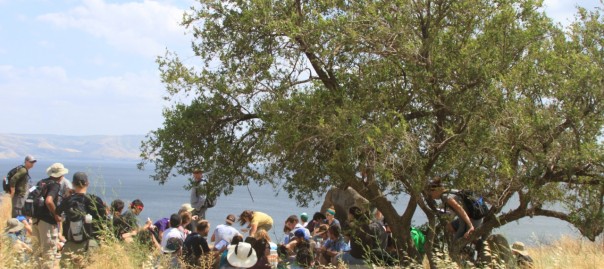 Day 5 – So Much More Alive Apr 19
This should help explain to you how magnificent our day was today: we ended it by swimming in the Sea of Galilee. Today was such a packed day – Capernaum, Chorazin, Mt. Arbel, Tabgha, and the Mt. of Beatitudes.
We started off our day with our last major hike, Mt. Arbel. In Rabbinical tradition it's called "Prayer Mountain", but the best translation of Arbel is "God's Ambush." The hike up included a stop at a Crusader's Fortress, and a harrowing encounter between an angry mother cow and Brad Bell. Brad, of course, came out on top. Once we summited, we had an amazing view of the Sea of Galilee. Today is Holocaust Remembrance Day, and while we were at the top air raid sirens all over Israel went off for two minutes. We took ten minutes previous to pray over Israel and the tragedy of the Holocaust after which we stood for a moment of silence with the rest of the country to remember the catastrophic event.
Traditional Galilee thinking is all about community. As we were at the area of Chorazin, Rich explained even more in depth what Joshua is all about – community. The type of community the people back then lived in is called "insula". A family is the core unit, and as sons get married, they build rooms onto their home for their new family. This process continues, getting bigger and bigger. Knowing and seeing this makes the verses where Jesus talks about his Father's house having many rooms come so much more alive.
On the Mt. of Beatitudes, Kelsey Forbes recited Matt. 5-7 from memory, and let the weight of the words of Christ wash over us. Mikvah, baby. It was evident that Jesus is not far removed, encased by history, sterile and safe. He is at the very core of existence, with perfect knowledge of our thoughts and motives, inviting us into the life of the Father. It was freaking awesome.
Next: Tabgha. We saw so many Jews! They were bathing in the Sea of Galilee. Christian Warne, from the Well church, spoke to us about the calling of the first disciples. Tabgha means seven springs, though only six have been found.  Christian talked about Peter being reinstated by Jesus. "Do you love Me? Do you love Me? Do you LOVE Me?" (John 21:15-17)  We ended that portion of the day with the question, "Who do I need to restore relationship with?"
For our last trip, though the day was not over, we went to Capernaum, the place where Jesus ended up making His ministry home. It is a small fishing village. It also had the biggest synagogue of its time. It is also believed that this is where Peter lived. The place was gorgeous, but that is not what captured my (Isaiah's) attention. It was the stories from the New Testament coming to life. It was amazing. There are so many passages that take place with Jesus in Capernaum. There aren't many scenes in the Bible where the exact location can be verified in modern geography.
Finally: we were hot, happily exhausted, and the Sea was calling our name. So we answered! We ran towards the waters, and we were joyfully received.
Isaiah Middle Barker and Tristan-Charles Cameron Green (in collaboration with Davia Monet Campbell)
Audio from this day
Brad teaching at Caperneum
Christian teaching at Tabgha
Day 5 thoughts from David and Benji
Rich teaching at Chorizan
Today's Photos