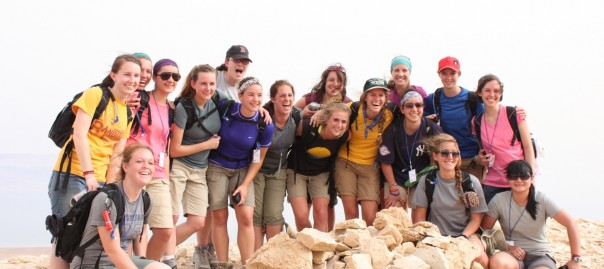 Day 4 – Enjoy the Lords Blessing Apr 18
This is Austin Bailey and Benjamin Smith, reporting live from the bus nearing the end of day four.  No big deal-we kinda just conquered the world…not really, just Masada and Qumran, which were two massive hikes that we did today, along with swimming in a waterfall at Ein Gedi.
At about 8 am, we showed up at the bottom of Masada- a giant mountain.  From where we were standing, we could see the snake like path that we were going to have to hike up all the way up the side the mountain.  50 minutes later, we were standing in King Herod's fortress (Masada) looking down at the feat we had just accomplished.  We then went on and were guided through the remains of Herod's palace by our two tour guides, both named Ronen.  We saw the ingenuity of their ability to create aqueducts to supply the palace with water, beautiful overlooking balconies, and state-of-the-art saunas.  What is sobering to realize is that this whole palace was the result of one man's selfishness and pride.  He was so concerned about keeping his place as King that in times of danger, he would go to the top of this mountain so that no one or nothing could attack him there.  Wow, he went to pretty great lengths to protect himself!
Next thing you know, we are at this place called Ein Gedi, tired after just conquering Masada, and thinking we were about to go on another hike.  Little did we know that we were at a waterfall.  Rich talked about how this is another place where David ran to hide and get away from King Saul.  There were many small caves right above us, where David could have taken refuge.  In the story that Rich reminded us of, King Saul wandered into a cave to relieve himself, not knowing that David and his men were in there hiding.  David came out and cut off the corner of his robe.  David chose not to take the life of the Lord's anointed.  It was crazy to think that David could have gotten his refreshment from the exact spring we were sitting by.  We also read some Psalms about finding refuge in springs of Living Water.  Rich mentioned that in life, God provides refreshment in the form of himself when we are in need.  He promises to nourish us when we are hungry and thirsty for Him.  Finally Rich asked us if when we came to God daily, did we just want to dip our hands in and then walk off into the difficult day?  Or did we engulf ourselves in His presence, allowing Him to refresh and replenish all of us?  To prove this point, he jumped in to the spring and said, "Join me enjoy the Lords blessing!"  So that's what we did, up at the spring and down at the water for about 20 minutes we all hung out and had a great time as a family in the water fall. It was awesome to see all the joy on everyone faces-one of the highlights of our day, but there is still one more Qumran.
Qumran was a sight to see.  We approach the ruins and see the massive mountain towering over us.  This was an optional hike so not everyone went, and  it was the hardest one of the day.  So after being taught on the Wadi by Allen, all those that chose to go on the hike started single file up the side of the mountain.  After three false summits and thirty minutes, we were at the top of Qumran where the Joshua monument (a large rock pile) stands.  On the monument's rocks was written what past students learned in the Joshua program from the last six years.  We were now going to join Joshua history as we picked a rock to write what we had learned.  After we all finished and placed the rock on the pile, we then began to shout the Sh'ma from Deut. 6 in hopes that the people who stayed behind and were at the bottom could hear it.  Also Josh Yee, if you're reading , Jenna found the rock you left.  Just thought we would let you know she found it and she says thanks a lot!!  Well that about sums up our day.  We are now heading to our next destination which is the Sea of Galilee.  We will be there for the next three nights.  Right now, we are jamming to some music on the 2 hour drive that we have ahead of us.  Well that's all folks—hope you enjoyed.  We love all the comments keep them coming.=)
This is Austin Bailey and Benji Smith signing off saying goodbye or Shalom in Hebrew!
Audio from this day
Allan teaching about Wadi's
Chris teaching at Qumran
Josiah and Andy Thoughts on Day 4
Today's Photos