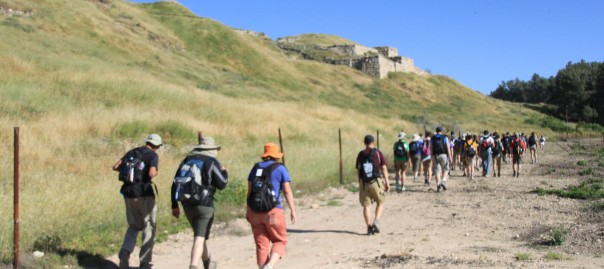 Day 2 – The Shephelah Apr 16
Shalom from Israel! Michelle and Jenna here to reminisce on our day. Today has been crazy! Our entire day has been spent in the Shephelah. What's that? The low hills, agriculture, and where battles were fought in biblical times. First up was Beth Shemesh, home of Samson. Joey used the story of Samson to describe how small compromises can lead us away from God , without us even realizing it.
We were able to walk into a cistern, a place where water was stored. Rich talked about how in cisterns, water is not fresh, as opposed to living water. Water from a cistern is like our life when we use other things to fulfill us; they may help us get by, but they do not truly sustain us. Living water, though, is like being filled by God, who completely transforms our lives. We hiked up Azekah, the gate city (protection for Jerusalem) which overlooks the Valley of Elah, where David fought Goliath. Jenna: "The thing that stood out to me was, 'God uses people whose hearts are His to show His strength. Where there are 'goliath's' in our lives, that is where God's strength is displayed." We were able to grab 5 smooth stones from the same creek bed that David grabbed his when he fought Goliath (There is the possibility that your son or daughter has already lost theirs. Oh! And if they try to tell you that they're the same stones that David used to kill Goliath, don't believe them. Just smile and say, "That's great sweetheart."). Basically everyone has heard of the story of Jesus' birth. Rich took us to a shepherd's cave which is a more accurate description of where Joseph and Mary stayed. The floor was covered with dust, and ashes, basically a long times worth of sheep dung. Gross, especially if you are going to be giving birth. Neither of us have experienced this, but this is definitely not where we would like to be. When David was running from Saul he hid out in caves. Read Psalm 57 and picture this scenario: crawling on your hands and knees, squeezing through a space that is barely large enough to fit you…dimly lit by a light. All so you could be safe from a guy who is trying to kill you. Then you write Psalm 57 praising God for his protection. We got to do both. Wow, what an experience!
Our amazingly fantastic tour guides and drivers prepared our lunch.  Pita bread, (The best ever! Sorry Trader Joe's!), meat, and veggies. So good. After that, we visited an Egyptian style burial tomb, no big. Then we hiked up to Bet Guvrin. It has at least 22 underground caves used for the production of olive oil. We were able to explore one of these caves, which was really cool. Rich explained that the reason Samson's eyes were gouged out was because he was put to work. His job was to work at a press (possibly an olive press). When a slave was blind it made it easier for them to go around in circles all day without getting dizzy. No blindfolds. Next was Lachish and it  was amazing, you could still see the old walls, the siege ramp, and an beautiful view which stretched for miles. Brad taught at this site. What I (Michelle) took away from this is "don't grow comfortable in your strengths, or put your faith in earthly things. God is the only one who can do amazing things in you and through you." We climbed to the top, took pictures, maybe imagined that we were defending ourselves from an army (yes, we sometimes think like we're 5). Tonight we will be staying at a hotel near the Dead Sea. Stay tuned for more updates about our adventures in Israel! Farewell to you all.
Michelle Le Laurin and Jenna Yee
Audio from this day
Brad teaching about vineyards
Chris teaching about sheep
Interview with Natalie Turner, JWI Alumni
Day 2 Overview with Nick and Jacob
Rich teaching in a Cistern
Rich teaching on David & Goliath
Today's Photos