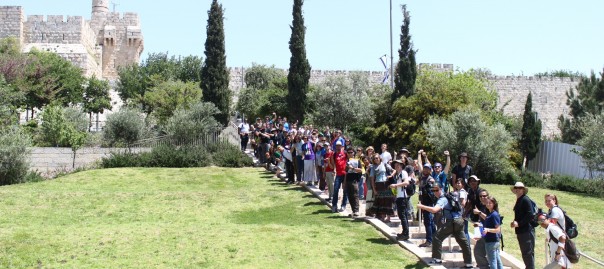 Day 11 – No Other Gods Apr 25
Tov shalom from the holy land. This is Nick Zavala and Jacob Sanchez signing in and we bring greeting. We have a lofty task today because we are bringing this whole trip full circle in 1 blog. Each place we went to have a special significance to it and our speakers at the site brought it to life and showed us applications to each of our lives.  Each site had its lessons and students were applying them to their lives in different ways. The staff really has been encouraging us all trip to every night journal our thoughts and listen to what God is telling us because God has a reason for each of us being here.
Probably one of the main themes this trip and a common pattern we have been seeing literally almost at every site is that there would be an altar dedicated to God but also a smaller altar for a pagan god. We think that this is funny because it is so easy to look at that with distain or rebuke because it is right there in physical form right in from of our eyes, but it is something we do in our lives all the time. We have other "gods" in our lives all the time, you see there are things that we praise, maybe not as adamantly as God, but it may be second in our lives. That is the same thing as the Israelites did, God was the highest alter, but right below is something else. Something that we place close to God or even in a far proximity, the key is, though, that it is on the radar. God should be the only thing that you hold in reverence, at all.
Something that was prominent and worth mentioning was the comparison between Roman city and the Insulas.  It was crazy to see how small the communities were and the simple lives they live in the Insulas compared to when they would go to a roman city and see the eloquence and great splendor of everything they offered for the people there.  There was a great appeal to the cities because everything they had there was bigger and better. Like the world. The world looks so appealing to some and it is easy to compromise the very thing that is special to you, your community, and trade it in for your own interests.
Community then and now is and was very important, as the Bible says iron sharpens iron, so a man sharpens another man and that is community. This trip community has been a big theme. We look at some of the places 1st, 2nd, and 3rd century people would have lived, which mainly very small homes or network of homes were living in very close proximity of each other. In Israel personal space doesn't exist which makes us Americans think differently about community. Living in the Joshua building for almost a year with other students can be hard at times, but we do to a certain extent have personal space, people in the time of Jesus didn't so personally I'm taking away from this that when we are called to be a community we need to dig deep and bring the sin of our personal space to light to others so that we may grow and become what God has for us.
Overall this trip has been a great trip and it has opened our eyes up to the bible. I have heard it so many times said it is like reading the bible in color. Yes I think this is a perfect description because it has done exactly that, yet this trip has open our eyes to the evasive number of people who have misses it, missed the entire purpose of existence. God's special gift of giving us the opportunity to SEE the Bible excites us to share it with those who have missed it, those who have missed everything.  So in a way as our trip ends, and as Joshua ends… IT WILL BEGIN!
The past 11 days wouldn't have been possible without GTI Tours facilitating this trip. Help us say thanks to them by liking them on Facebook (below) or by scrolling down and leaving an appreciative comment!
Audio from this day
Brad teaching on mount of olives
Christian teaching at the pools of Bethesda
Day 11 thoughts from Austin B
JWI singing at St Anne's Church
Singing in saint annes
Students final wrap up thoughts from the trip
Today's Photos