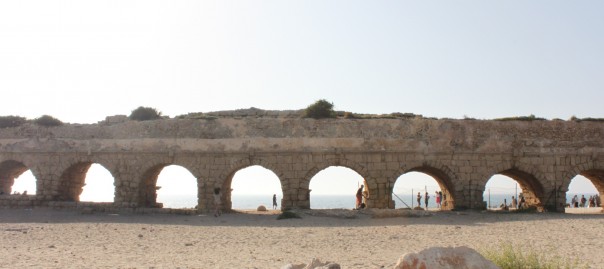 Day 7 – Many Cities Apr 5
Breakfast and devotions by the Sea of Galilee launched this beautiful (and hot) day. Supposedly, this was the hottest day of our trip. Today was our ascent to Jerusalem, but we took many stops along the way. The first one was Nazareth. We climbed up on what is believed to be "the brow of the hill," as referenced in Luke 4 and opened the Word. Luke 4 begins with the temptations of Christ; he then travels into Nazareth. He read from the scrolls and then brought up the widow in Zarephath from Elijah's time. This angered the people (we will find out why later) and they took him up on the "brow of the hill" to throw him off. He, however, walked right through the crowd. As we sit looking down into the valley, we can see the hills where Deborah was from to our left. In front of us are the mountains of Gilboa, where Saul was killed, and to our right was Mt. Carmel (one of our next stops). This valley was the setting of many battles/stories both Biblical and modern, including the battle of Gideon and Naboth's vineyard.
After leaving this site, we headed to Tel Megiddo. Here, we continued our discussion. This was a city fortified by Solomon. There were many evil worship practices taking place here, including the sacrifice of sons and daughters. We looked at some of the backstory with Joshua prophesying against the rebuilding of Jericho. When Ahab and Jezebel have Jericho rebuilt, another prophet comes into the picture: Elijah. Elijah goes to the widow of Zarephath, and we see that when Jesus references this story in Luke 4, the Israelites understand that the implication being made is that they are comparable to Ahab and Jezebel. It is this understanding that angers them enough to attempt to throw Jesus off the cliff. We walked around the Tel a bit more and saw stables, a manger, and an incredible water system. We then loaded the bus and headed to our next site.
On our way, we pulled off the road to look at a 1st century tomb. We got a group picture and then were on our way to Mt. Carmel. On Mt. Carmel, we read through Deuteronomy 18 and 19 together and talked about God's power and hand throughout Elijah's life. God's power to Elijah was not demonstrated in the wind, earthquake, or fire but rather in the gentle whisper.
We enjoyed lunch on Mt. Carmel and then began the challenging descent down the mountain. Once on the bus, we drove to Caesarea on the Mediterranean Coast. In ancient times, this was an attempt by Herod to build the world's largest harbor. To this day, only 10% of it has been excavated. We walked through the hippodrome and the theatre before walking along the beach. We enjoyed the sun and water as we searched for pieces of marble from Herod's palace. We talked about the fact that we can stand here watching everything Herod built, everything he poured himself into, wash away, and yet we have a God whose kingdom will never fade or be washed away. What an incredible gift to be adopted in as sons and daughters of the true king!
We made one last stop at the aqueduct that brought water to Caesarea before heading to Jerusalem. At our hotel, we had a very nice dinner. Many chose to go on a night walk through Old Jerusalem with Jim and Todd; the rest chose to retire to their rooms to sleep. Corinne and April had a lovely surprise when Corinne found a live crab in one of the shells she had picked up earlier, and it began crawling on the floor.
I can't wait to see what tomorrow holds!
Audio from this day
Interview – John Tierney
Interview – Noah Blackport
Interview – Tim Perry
Megiddo – Water System – Ronnie
Mt. Carmel – Todd Schenck
Today's Photos