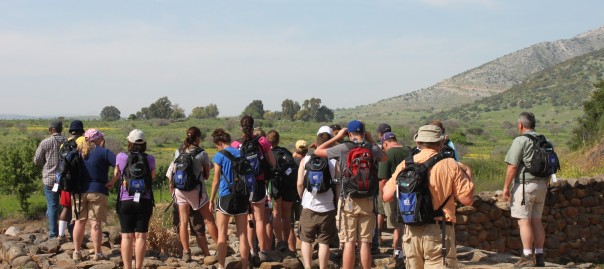 Day 6 – Words into Action Apr 4
We once again woke up early and headed off to breakfast. Before loading the bus, we opened the Word to Deuteronomy 32. There is creation language all throughout these verses, but we focused in on one phrase: "apple of his eye." This is a poor translation. When you look into someone else's eye, you don't see an apple; you see a reflection of yourself. The Hebrew word actually is translated "little man." God sees his little man, his reflection, when He looks at us. In other words, we are made in His image. We were challenged to reflect on how we treat each other. Do we treat others as image bearers of God?
After devotions, we loaded the bus and headed for the Golan Heights region in northern Israel. Our first stop was Gamla. Gamla has a history similar to Masada. Once we descended to the ancient synagogue, we talked about the Hebrew word "canaf." This word is translated as "wings," "corners," and "edges." We looked at many occurrences throughout Scripture before settling on Ruth. Boaz tells Ruth that he heard what she did for Naomi and then says, "May the LORD repay you for what you have done. May you be richly rewarded by the LORD, the God of Israel, under whose wings you have come to take refuge." Later on in the story, Boaz awakens to find Ruth at his feet, and she tells him to spread the "wings" of his garment over her since he is her kinsman-redeemer. Basically, she is telling him to put his words to action. Rather than the mere words of blessing and protection, she is asking him to be God's means for blessing and protecting her – for redeeming her. We all have Ruth's in our lives, outcasts. What are we to do about it? In the Hebrew Bible, the book of Ruth follows Proverbs. Could the Proverbs 31 woman be Ruth? These were some questions we were left to ponder.
At this point we made the challenging ascent and moved on to Katzrin. This was an ancient village that provided us an opportunity to see what houses and synagogues would have looked like long ago. After that, we headed to Banias, also known as Caesarea Philippi. We saw powerful waterfalls and springs as we took a long hike on the Banias trails. We enjoyed lunch and then walked up near the Temple of Pan. This was a wicked place, a portion of which was often referred to as the Gates of Hades. In Matthew 16, Jesus brought his disciples here and challenged them. We then moved further up on Mount Hebron, the possible location of the transfiguration in Matthew 17.
Our next stop was Dan. We looked at some history taking place here. At the end of Joshua, Joshua sets up a stone under a tree at Shechem, just as Abraham had done, and commits to serving God alone; all the people join in this commitment. However, by Judges 2, a generation had grown up without the knowledge of God, and by Judges 9, syncretism had begun. Though they may have believed they were worshipping Yahweh, they had combined worship of Yahweh with worship of Baal. In 1 Kings 11, Solomon's divided heart is about to lead to a divided kingdom, and Jeroboam is given the Davidic promises; he has a chance to be the new David. Unfortunately, his first move as king was to fortify Shechem and set up two golden calves. We are sitting on Tel Dan, looking at the massive altar, and we fast forward our story to John 4 when Jesus arrives in modern day Shechem. He meets a woman at the well. Once again, Jesus takes the mundane event of meeting at the well and turns it into a sublime encounter. He tells the woman that no longer will sacrifices take place in this temple; sacrifice and worship will only come through The Temple (Jesus Christ). Typically, a meeting at the well involves a significant birth. In this case, we find the significant birth is not a literal birth but rather many being born again into the kingdom.
All throughout the day, we would hear loud booms off in the distance. We made jokes about it being fireworks, but in reality it was military training activities. The Israeli military has been conducting their training in the northern parts of Israel, so we have seen many helicopters overhead and heard many loud noises.
I could not think of a better way to end the day than at the Jordan River. We had the opportunity to be baptized in the Jordan. Fourteen of us chose to be baptized by Todd and Jim. It was an unforgettable experience. Afterwards, we explored Bethsaida for about 15 minutes then headed back to the hotel for dinner, debriefing, and bed. Tomorrow, we leave our hotel and head for Jerusalem, where we will be staying our final two nights in Israel.
Audio From This Day
Gamla – Todd Schenck
Interview – Ali Foster and Mel Vanderziel
Tel Dan – Todd Schenck
Today's Photos