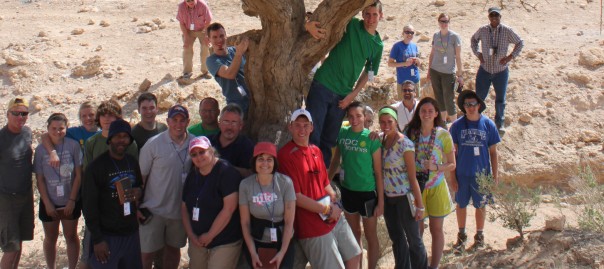 Day 3 – Deeply Rooted Apr 1
Many of us woke tired, feeling unprepared for the day. However, we got up and had some breakfast on the camel ranch. We did a quick devotional, prayed, and loaded the bus for Be'er Sheva. We arrived at Tel Be'er Sheva, Abraham's hometown. We looked at those constructing the Tower of Babel; their desire was to make their name great. In contrast, God told Abraham that He would make Abraham's name great, and in response, Abraham called on the name of the Lord, and in doing so, made God's name great. When God called Abraham, he responded by saying, "Henneni (Here I am)." Our response when we hear God's call is to mimic Noah, Abraham, Samuel, and Isaiah by saying, "Henneni (Here I am)." We continued to make our way around Tel Be'er Sheva, exploring part of the 15 layers of ruins found here and the spectacular cistern designed about 3000 years ago.
After leaving Be'er Sheva, we journeyed to Arad. Discovered in the ruins of this Tel was a chapel or mini temple of sorts. When Hezekiah commanded the destruction of all temples apart from the one in Jerusalem, this one was never destroyed; it was buried. We sat in the ruins and covered the book of Leviticus. The book of Leviticus is a walk through the temple which includes two stories bringing us to one point: God is a holy God, and He should be approached in the way He chooses. The amazing thing is that with Christ's death on the cross, the curtain was torn. Not only can we now approach God, but it's almost as if He steps out of the Holy of Holies and approaches us.
From here, we walked about 30-40 minutes through the desert to reach a Bedouin camp. When we arrived, they immediately started making us tea and bread. We talked about the cultural differences in hospitality; they didn't even know we were coming and yet they gladly welcomed all 30 of us. We sat for a bit, enjoying the shade, the generosity, and the kids. Then we were on our way back to where we had started: Arad.
We sat outside the ancient walls of the city and looked at two Old Testament stories of sin: Sodom and the Benjamites. The stories had remarkable similarities, but one key difference. The difference was that the Benjamites were part of God's chosen people. Israel didn't stand out; they blended in with everyone else. As we considered the commandment to not take the Lord's name in vain, we discovered that this commandment goes much deeper than it is usually applied. Taking God's name in vain occurs when God's people who bear God's name are just like Sodom; His name is not to be taken lightly.
At this point, we grabbed some lunch and headed to the Dead Sea. On our way, we pulled off the road by an Acacia tree. We opened Scripture, looking at choices that Abraham made and choices that Lot made. We contrasted them using Psalm 1 and were reminded that our lives should be like the Acacia tree. Though you don't always see the streams of water, its roots go deep.
We finally made it to the Dead Sea. The Dead Sea is the lowest point on Earth (about 1200 ft below sea level). We went to a spa and were able to cover ourselves in mud from the Dead Sea. After showering off, we took a shuttle ride to the Dead Sea and floated around. It was incredible!
Our night ended at the En Gedi Resort with dinner, debriefing, and bed in preparation for our most challenging hike tomorrow!
Audio from this day
Arad – Todd Schenck
Interview – David Huizenga
Interview – John Coy
Tel Be'er Sheva – Ronnie and Todd Schenck
Today's Photos