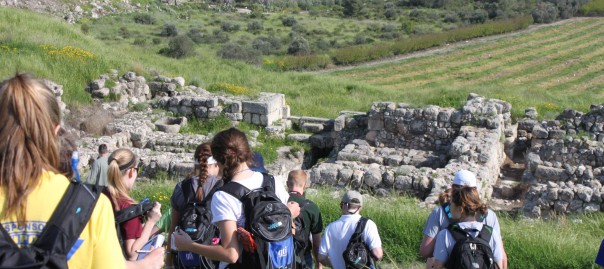 Day 1 – A Nation Set Apart Mar 30
It has been one long and exhausting day, but we are thrilled to finally be in Israel! We met at NorthPointe at 7am on March 29th, prayed, and hit the road. The two and a half hour bus ride was followed by a flight to New York, a five hour layover, and a ten and a half hour flight to Tel Aviv. With little sleep and some problems at customs (listen to Andy's interview), we arrived in Israel on March 30th at 1:30pm.
Though we were all in need of a shower and a good night's rest, it would be awhile before we checked into our hotel. After leaving the airport, we loaded a charter bus and went directly to our first site: Tel Gezer. We did some hiking, stopping at various points to learn about the geography and history of the land. As we opened Scripture and discussed the location of this site, we were reminded that God gave this land to the Israelites for the purpose of bringing Him glory. He desired them to be a nation set apart; an example to the nations. However, they had a role in this; their responsibility was to love Him only, serve Him only, and raise future generations to do the same. Our responsibility has not changed, but all too often we, like the Israelites, forget Sh'ma and turn from the ONE, true God.
"Hear, O Israel: The LORD our God, the Lord is one. Love the LORD your God with all your heart and with all your soul and with all your strength. These commandments I give you today are to be upon your heart. Impress them on your children. Talk about them when you sit at home and when you walk along the road, when you lie down and when you get up. Tie them as symbols on your hands and bind them on your foreheads. Write them on the doorframes of your houses and on your gates."
-Deuteronomy 6:4-9
We broke into "families" for the purpose of keeping track of everyone. We were able to get family pictures by a few standing stones, erected to serve as a reminder to all generations that the Lord had been faithful. After pictures, we loaded back on the bus, checked into our hotel, and had a fabulous buffet dinner. We tried to get to bed early because we have to be up by 6:15am tomorrow.
Audio from today
Interview – Andy Vanderziel
Interview – Stacey Baker
Tel Gezer – Ronnie
Tel Gezer – Solomonic Gates – Todd Schenck
Today's Photos